Adidas Adipower CTRL Paddle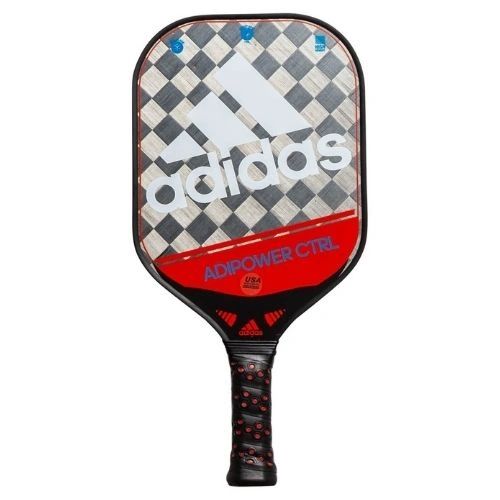 Adidas Adipower CTRL Paddle
The Adidas ADIPOWER paddles utilise an innovative combination of materials to produce pickleball paddles which offer offensively-oriented players a distinct measure of control when forced back on defence. They call the face material "carbon aluminised," which is essentially a soft coating over a much harder material, yielding a paddle with enjoyably different degrees of response and touch at different depths on the court. Advanced players will love the feel as the ball dwells on the face just long enough to maximise your shot selection. The "CTRL" model (pronounced "control") is an all-court shape which provides a good blocking width that is manoeuvrable with a mid-weight range. The high-density 14.28mm (0.56") thick polypropylene core adds another measure of control to your shots.

The ADIPOWER CTRL Pickleball Paddle is offered in a weight range of 7.7 - 8.2 oz., with a 4-3/4" handle length and smaller than average 4-1/8" grip circumference. Overall, the paddle measures 16" long by 8" wide, and features both adidas' structural reinforcement tech around the perimeter of the paddle, as well as their "Spin Blade" surface texture to enhance lateral ball movement when you want it. What adidas brings to the market with their ADIPOWER CTRL is a great, soft playing paddle for advanced and pro-level pickleball players. One colour only: Orange.

Please Note: adidas' Carbon Aluminised surface treatment will sometimes cause a slight blurring underneath the graphic. This is caused when the carbon shows through the aluminium, and it does not affect the performance of the paddle.
Specifications:
Weight Average: 8.0 ounces, Weight Range: 7.7 - 8.2 ounces
Grip Circumference: 4 1/8" (small) Actual grip sizes may vary up to 1/8".
Grip Style: Perforated Cushion, Grip Manufacturer: adidas
Handle Length: 4 3/4"
Paddle Length: 16.0", Paddle Width: 8.0"
Paddle Face: Carbon Aluminised
Core Material: High-density Polypropylene Honeycomb
Core Thickness: 14.28mm (.56")
Edge Guard: 1/4" overlapping paddle face
Manufacturer: adidas
Made in China

Reviews