Adidas RX44 Pickleball Paddle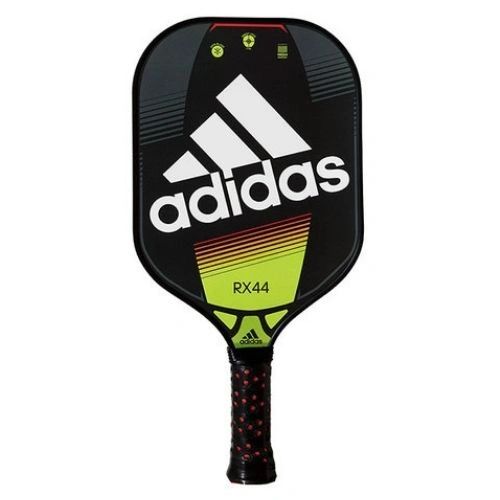 Adidas RX44 Pickleball Paddle
The Adidas RX44 composite fibreglass paddle will feel familiar from the get-go. This paddle echoes back to many of the traditional paddles of the game, but with brand new technology. A fibreglass face provides power to keep your opponents back at the baseline without sacrificing touch and the high-density 14.28mm (0.56") thick poly core enlarges the sweet spot and gives stability to every shot.

The adidas RX44 paddle features carbon reinforcement in the frame to make it durable, and adidas' Spin Blade technology on the face will increase touch and spin on your shots. The traditional shape (16" long by 8" wide) gives the paddle great balance and the 4-3/4" long handle will feel right at home in your hand with a slightly smaller than average  grip circumference. This paddle allows you to determine your style of play: you can attack with power or defend and control with accurate ball placement.

The RX44 Fibreglass Composite Pickleball Paddle by adidas is designed as an intermediate level paddle. Colour: Yellow.
Weight Average: 8.0 ounces, Weight Range: 7.7 - 8.2 ounces
Grip Circumference: 4 1/8" (small) Actual grip sizes may vary up to 1/8".
Grip Style: Perforated Cushion, Grip Manufacturer: adidas
Handle Length: 4 3/4"
Paddle Length: 16", Paddle Width: 8"
Paddle Face: Fibreglass
Core Material: High-density Polypropylene Honeycomb
Core Thickness: 14.28mm (.56")
Edge Guard: 1/4" overlapping paddle face
Manufacturer: adidas, USAPA approved
Made in China

Reviews