Aero-D Graphite Pickleball Paddle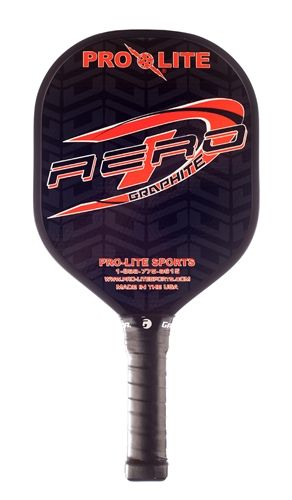 Aero-D Graphite Pickleball Paddle
The
Pro-lite Aero-D Graphite Paddle
 is a light to medium weight paddle featuring an elongated handle for increased control. This paddle has an aerodynamic design for better striking power, a specific choice made by Pro-Lite Sports for touch and net play. The sleek design ensures that the paddle won't feel top or bottom-heavy. The smooth graphite face is screen-printed with the Aero-D's glossy logo, a swooping letter "D" layered with a bold black "Aero" on the top. Pro-Lite Sport's Aero-D Graphite paddle has a width of 7-3/4" and a total length of 15-1/2". This paddle has a long handle of 5-3/4", giving players the extra reach they might need. The grip is small and can be re-wrapped to increase thickness.
Reviews for this paddle all agree that it's a good solution for those who may have shoulder or other joint injuries. Colour R
ed (black background with red graphics), weight 7.6 ounces.
Reviews