Atomic 2.0 Pickleball Paddle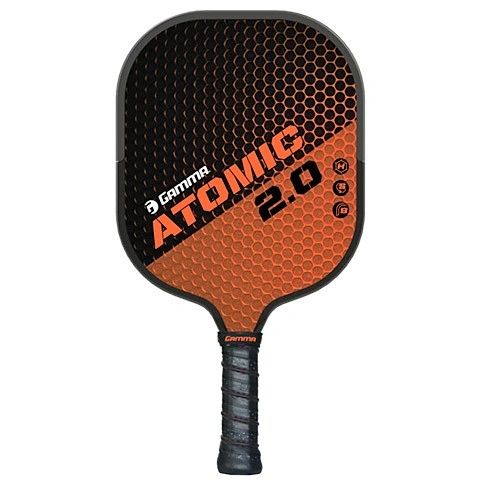 Atomic 2.0 Pickleball Paddle
Gamma's pickleball paddle collection has had a makeover! Their 2.0 collection offers all the same brilliant paddles but each with a retextured surface to offer a slightly 'scratchy', rough feel to the face that helps add a little pop and spin to the ball.

The Atomic 2.0 pickleball paddle is still Gamma's heaviest paddle and perfect for power players, providing a stable feel and power on all strokes. The textured fiberglass surfaces provide greater feedback for accurate placement on any shot.  The Atomic is the perfect choice for hard-hitting players looking to put a little extra wallop into their game. It's weight average 8.0 oz still makes it a medium weight paddle, it has a small grip, Gamma's fantastic flush-fit bumper and a textured fibreglass hitting surface. Colour Orange/Black.
Paddle Specifications: Weight Average: 8.0 ounces, Weight Range: 7.8-8.3 ounces, Grip Circumference: 4 1/8" (Small), Grip Tack: Medium, Grip Manufacturer: Gamma Honeycomb Grip, Grip Length: 5-1/8", Paddle Length: 15 3/8", Paddle Width: 8-1/8", Paddle Face Finish: Textured fiberglass, Core Material: Nomex honeycomb.
Reviews