Bantam TS5 Pickleball Paddle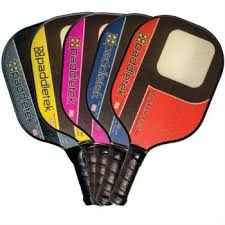 Bantam TS5 Pickleball Paddle
Paddletek is a most highly-respected pickleball paddle manufacturer and their paddles are constructed with a trademarked ProPolyCore which was specifically designed for pickleball playing to protect against core breakdown which eventually leads to dead spots in the paddle. This core dampens vibrations, making their paddles great for people with joint issues in their hands and arms. The polymer core is perfect for the "touch" game and is also the quietest core material currently available. 

The Paddletek Bantam TS5 pickleball paddle is the same beloved paddle as the Bantam EX-L except that it went on a diet! It's the same in virtually every aspect except for the weight. Designed to provide greater power, more placement control and hits that are strong yet quieter than traditional paddles. It give the player a fantastic blend of power and finesse. It weighs in at 7.2 - 7.5 ounces and at this weight players still have natural power from the paddle but can also impart spin and control. Colours available are Blue, Pink and Red.
Bantam TS5 Specifications:  Weight 7.2 - 7.5 ounces, Grip Circumference: 4 1/8", Paddle Length: 15 5/8", Paddle Width: 7 3/4", Paddle Face: Vinyl graphic, Core Material: Polymer honeycomb. At an average weight of 7.3 ounces it is a great blend of power and finesse. Colours available are Blue, Pink and Red.

Reviews