Franklin Ben Johns Signature Paddle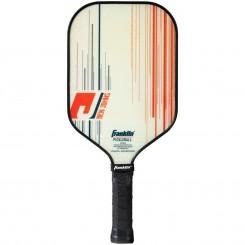 Franklin Ben Johns Signature Paddle
This is the official pickleball paddle of Ben Johns, arguably the best player in the world at the moment. Made with a longer than usual handle to allow the player to achieve maximum quickness and manoeuvrability at the kitchen line which is becoming a necessity in today's modern game. [
Professional quality: this premium quality paddle has been constructed to compete and win at the highest level. Which Ben does!
Maximum Grit: This paddle is constructed with MaxGrit technology, designed to dampen vibration for optimal control and precision play. This means that the balls goes where you intend it to.
Strong, durable, core: The 13 mm polypropylene paddle core is built for durability and effortless shot making while the fibreglass surface layer ensures a larger sweet spot in the centre of the paddle for flawless contact and increased control.
Paddle Specifications:


·       Paddle: 16.5" X 7.5" 
·       §  Handle length: long - 5.6" inches
·       Handle circumference: 4.25"
·       §  Weight: 7.5 - 8 ounces (middleweight)
·       Core: 13 mm polypropylene
·       Face: textured fibreglass
·       Approved by the USAPA for competitive and tournament play
Reviews