Champion Eclipse Graphite Paddle Two Pack: 2 Paddles and 2 balls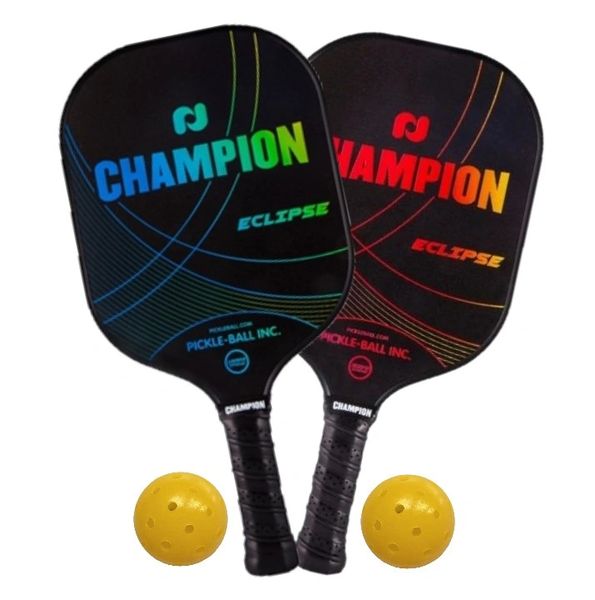 Champion Eclipse Graphite Paddle Two Pack: 2 Paddles and 2 balls
The Champion Eclipse Graphite Two Paddle Pack is a great choice for any pickleball-playing couple! The paddle allows the player to respond quickly and seize the opportunity to  put away shots. This paddle's weight is on the lighter side of midweight (average 7.5 ounces) with a smaller grip circumference (4 inches) so it is easy to manoeuvre and helps with quickness at the non-volley line. It has a durable and powerful polymer core and the balanced measurements allow it to feel at home in just about any player's hand. Quality materials and construction create an all-around performer that will stand up to daily use. 
The Champion Eclipse Graphite Paddle is a quality paddle at a fabulous price point. The Eclipse's design feels "retro techno" with a moody black background and lines of eye-catching neon colors cascading along its surface. The Champion logo and name is positioned in the centre with "Eclipse" set to the lower right.

The Champion Eclipse Graphite Paddle Pack comprises of two (2) Champion Eclipse Paddles (colours blue/green and red/yellow) and two Ace 2 outdoor balls (USAPA approved).
Paddle Specifications:
Weight range: 7.2-7.7 ounces
Grip circumference: 4" (Small)
Grip style: cushion, perforated
Grip length: 5"
Paddle Length: 15.4 "
Width: 7.75"
Paddle Face: Graphite w/3D digital print graphic
Core Material: Polymer honeycomb
Edge guard: thin-line overlapping edge
USAPA approved
Reviews