Champion Eclipse Graphite Pickleball Paddle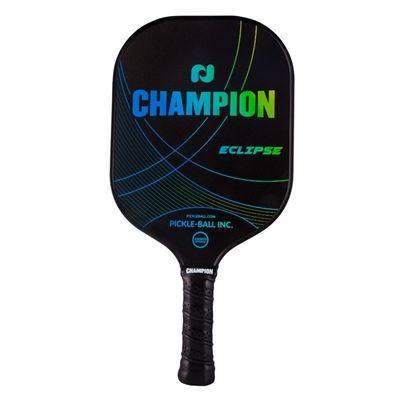 Champion Eclipse Graphite Pickleball Paddle
The Champion Eclipse Graphite Paddle is a quality paddle at a fabulous price point. It is lightweight and manoeuvrable and will provide players at all levels with top quality play. It feels especially responsive in the hand thanks to its durable graphite face and powerful polymer core. The slim edge guard allows players to make the most out of the paddle's 7-3/4" wide surface area and enjoy extra punch from the sweet spot.

The Champion Eclipse Graphite Paddle is USAPA-approved and weighs a trim 7.2 - 7.7 oz. It has a small grip circumference which allows it to be handled by players of any size and has a pleasantly cushioned grip that reduces vibration from impact. The handle length is 5" so you have enough space to adjust your hold on the paddle. The Eclipse's design feels "retro techno" with a moody black background and lines of eye-catching neon colors cascading along its surface. The Champion logo and name is positioned in the centre with "Eclipse" set to the lower right.

The Champion Eclipse Graphite Paddle was designed to be a durable and versatile paddle making it a good choice for players who want a paddle that feels comfortable yet has the edge needed to make dynamic plays. Colours: Blue/Green or Red/Yellow.
Specifications:
Weight range: 7.2-7.7 ounces
Grip circumference: 4" (Small)
Grip style: cushion, perforated
Grip length: 5"
Paddle Length: 15.4 "
Width: 7.75"
Paddle Face: Graphite w/3D digital print graphic
Core Material: Polymer honeycomb
Edge guard: thin-line overlapping edge
USAPA approved

Reviews