Club Classic Graphite Paddle Pack with balls to EU & Europe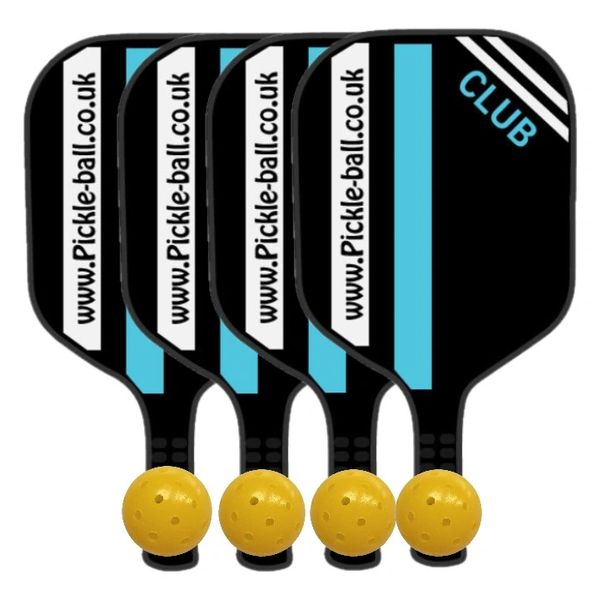 Club Classic Graphite Paddle Pack with balls to EU & Europe
The Club Graphite pickleball paddle pack is a great way to introduce a small group of players to this wonderful sport. The paddles are midweight, robust and stylish and are an affordable composite alternative to the ever-popular wooden paddles for the pickleball beginner. 

Made with a strong carbon PE core, this paddle solves the only two real drawbacks of the wooden paddle: weight and street credibility. Weighing in at an average of 8.2 ounces, the Club paddle has enough weight to give the ball a good, firm hit but is still light enough to allow for the "touch" shots that make this game stand out from other racquet sports. The Club paddle performs as well if not better than paddles costing up to four times the price! 
Pack Features & Specifications:

The pack comprises of four (4) Club paddles and four (4) balls

. You can choose from outdoor Ace 2 balls (yellow/neon) or indoor Jugs balls (white and lime green)
Average Weight: 8.2 ounces (midweight), Paddle length:15 3/4 inches (40 cm), Paddle width: 8 inches (20.4 cm)
Grip circumference: 4 1/2 inches (11.5 cm) - medium
Composition: surface - carbon fibre, Core - H

oneycomb PE. 

Made in China
The price shown is net of UK VAT but does not include shipping. Shipping to the following countries costs £15 (added at checkout stage): Belgium, Denmark, Finland, France, Germany, Hungary, Netherlands, Portugal, Spain and Sweden. Customers from Cyprus, Malta, Norway (or any other country) please contact me for a quote to include shipping.  Click here for contact details
It is important to note that if you order from outside the UK there might be taxes to pay to get your parcel. These charges are usually levied when the order reaches the delivery address and you will be responsible for the payment of those. UK Pickleball Shop has no control over these charges and can't predict their amount. For further information please contact your local customs office before placing your order.
Reviews