Compass Neucore Pickleball Paddle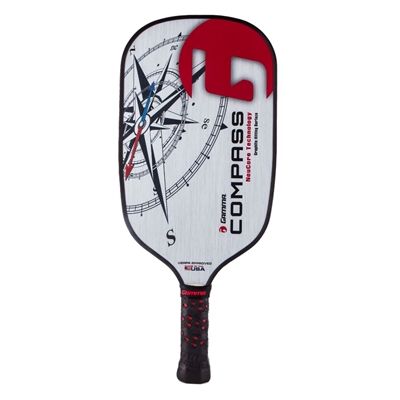 Compass Neucore Pickleball Paddle
Follow the needle on the Gamma COMPASS NeuCore Pickleball Paddle to victory. 
The Compass is a 7.75 oz graphite-faced elongated (blade) paddle providing an extra inch of length with a balanced feel and enhanced sweet spot. The graphite face featured on the Compass provides touch and control, while NeuCore Technology provides soft and rich play to make sure you find your way to the medal stand! 
The paddle composition leverages NeuCore Technology. Drastically increased cell size and paddle core depth help to enhance predictability and responsiveness. NeuCore is designed to help you play better. 
Features and Specifications:
·        25% Thicker Large Cell Core
·        Softer and more responsive feel for more control in your game
·        Predictable power to keep the ball in play, then put opponents away
·        Large paddle cells absorb sound waves for quieter play
·        Equipped with Signature GAMMA Honeycomb Cushion Grip, size small
       ·        USAPA Approved for sanctioned tournament play 
Reviews