Complete starter pack to EU/Europe: 1 x Club net, 4 Club paddles & 4 balls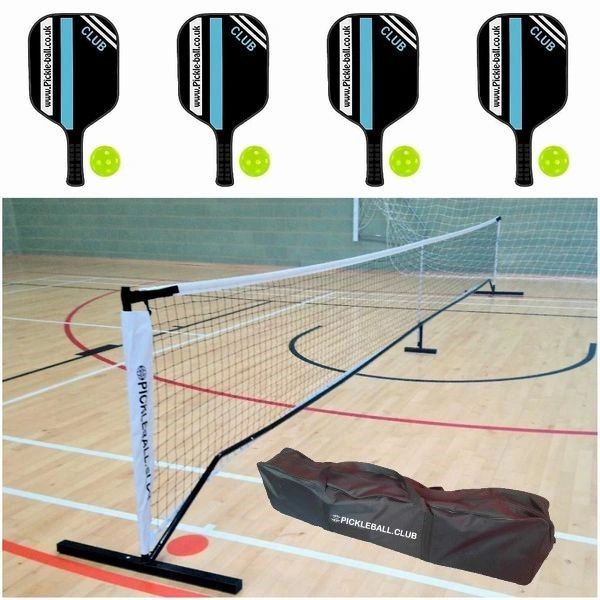 Complete starter pack to EU/Europe: 1 x Club net, 4 Club paddles & 4 balls
This is a product for sale to outside of the UK only as it does nor include UK VAT. For the same pack for delivery within the UK click here: Starter pack UK
Shipping for outside the UK will be added at checkout - see below for details of shipping costs.

The Complete Starter Pack contains everything you'll need for a game of doubles:

Club Net System: lightweight and versatile, this net system weighs a  approximately 8.5 KGs so is ideal for carrying around. It has fast become a best seller in the UK market. 
Graphite Paddles: classic Club paddles, medium weight (average 8.2 oz), strong and robust. Perfect for beginners and improving players
Indoor or outdoor balls: the indoor balls are Jugs (white/lime) and the outdoor ones are Ace 2 (yellow/neon). Both types of ball are on the USAPA approved list.
Shipping: the cost is £29 to the following countries (cost added at checkout): Belgium, Denmark, Finland, France, Germany, Hungary, Ireland, Jersey, Netherlands, Portugal, Spain and Sweden. If you are in Cyprus, Malta, Norway or any other European country the headline price will be the same but shipping may be different so please contact me for a quote. Click here for contact details

Please note: orders from outside the UK will be subject to taxes that you will have to pay to get your parcels. These charges are usually levied when the order reaches the delivery address and you will be responsible for the payment of those.  UK Pickleball Shop has no control over these charges and cannot predict their amount. For further information please contact your local customs office before placing your order.
Reviews