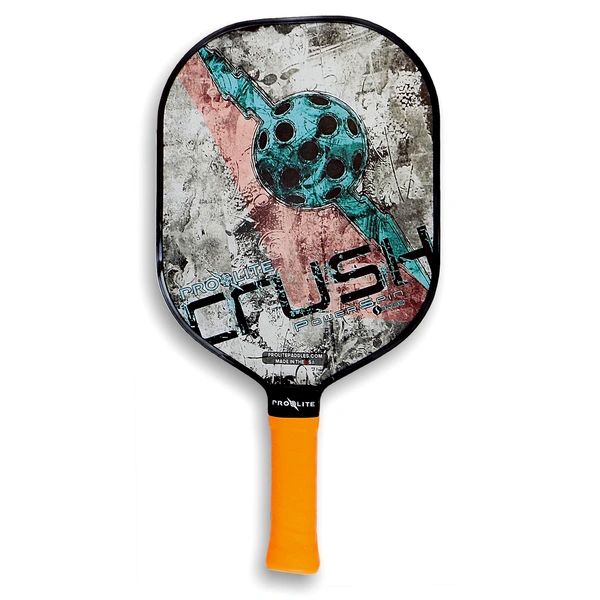 Crush PowerSpin Paddle
The CRUSH PowerSpin Composite Paddle by Prolite looks good enough to frame but with its amazing performance you'll be itching to use it on the courts as soon as possible! This composite paddle was designed to provide fantastic control with surprising power in its widebody design. With a flashy look and top quality materials, you'll be putting away shots in no time. 
The CRUSH PowerSpin Paddle has a light head which allows you to respond to any shot within seconds. The lightly textured face is broad enough to provide ample room for slicing and making use of the large sweet spot. Durable, SPINtac fibreglass panels make up the face and create an evenly responsive surface. The stylish graphics are paired with a contrasting, coloured grip in a small size. 
The CRUSH PowerSpin Paddle brings together the best finesse materials with the power to "CRUSH" at will! Only one left - Skate: turquoise on grunge grey background.
Technical Specifications:
Weight Average: 7.7 ounces
Weight Range: 7.4 - 8.0 ounces
Grip Circumference: 4 1/8" (Small)
Grip Tack: Medium
Grip Style: Cushion
Grip Manufacturer: Pro-Lite Comfort Contour 
Handle Length: 5 1/2"
Paddle Length: 15 1/2"
Paddle Width: 7 7/8"
Paddle Face Finish: Spintac fiberglass
Core Material: QuadCore (TM) polymer honeycomb
Edge Guard: Low profile MicroEdge (TM) guard
Manufacturer: Pro-Lite Sports
Made in the USA.
Reviews