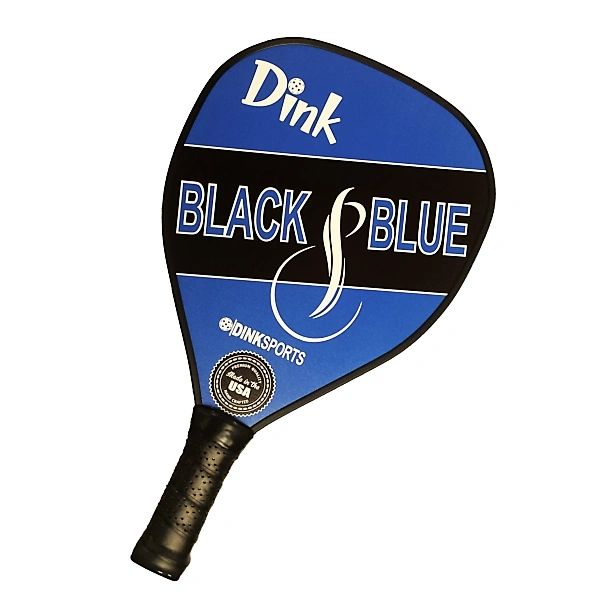 Dink Pickleball Paddle
The
Dink
Black and Blue Pickleball Paddle by
Prolite
resembles a table tennis paddle in terms of design, but its' pop is all pickleball! This paddle has a drastically tapered design, measuring an unbelievable 8-3/4" wide at the widest point of the face. It then dwindles inward to meet the handle. The face is composed of a smooth fiberglass face, providing incomparable pop. Sandwiched inside is a polymer core designed to withstand high impact while giving players the touch they desire. A black band stretches diagonally across the face reading "BLACK & BLUE" inside of it with "Dink" placed just above it and the Dink Sports logo below. 
The Dink Black and Blue Pickleball Paddle measures 8-3/4" wide, making it one of the the widest paddles on the market. Because it's wider, the paddle is only 15-1/4" long with a 4-1/2" long handle. The medium grip size fits the majority of players and is wrapped with a comfortable, ribbed grip for easy handling. 
The Dink Black and Blue Pickleball Paddle allows manoeuvrability for your wrist, creating incredible head speed.
Paddle Specifications:
Weight Average: 8.3 ounces
Weight Range: 7.9 - 8.7 ounces
Grip Circumference: 4 3/8" (Medium)
Grip Tack: Medium
Grip Style: Perforated, ,cushion, ribbed, stitched, black
Grip Manufacturer: Gamma Ultra Cushion Contour Grip
Handle Length: 4 1/2"
Paddle Length: 15 1/4"
Paddle Width: 8 3/4"
Paddle Face Finish: Fiberglass
Core Material: Polymer honeycomb
Edge Guard: 1/8" overlapping paddle face
Manufacturer: Pro-Lite Sports
Made in the USA.

Reviews