Prolite Dink Pickleball Paddle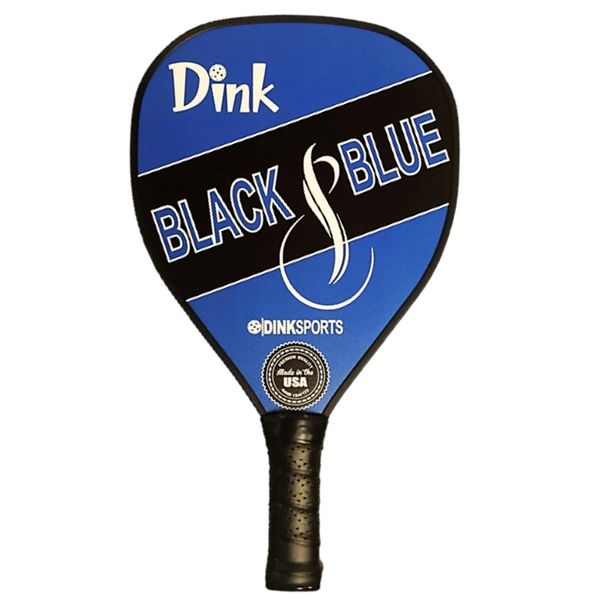 Prolite Dink Pickleball Paddle
The Dink Black and Blue Pickleball Paddle by Prolite give the player the best chance possible to connect with the ball due to its tapered design, measuring an unbelievable 8-3/4" wide at the widest point of the face. The fact that the paddle has little or no "shoulders" means that it is incredibly maneuverable, especially at the kitchen line. The face is composed of a smooth fibreglass face, providing incomparable "pop. Sandwiched inside is a polymer core designed to withstand high impact while giving players the touch they desire. A black band stretches diagonally across the face reading "BLACK & BLUE" inside of it with "Dink" placed just above it and the Dink Sports logo below. 
The Dink  Pickleball Paddle allows maximum manoeuvrability for your wrist, creating incredible head speed. Available as a single paddle, a two pack with 2 balls or a four pack with four balls.
Paddle Specifications:
Weight Average: 8.1 ounces
Weight Range: 7.9 - 8.4 ounces
Grip Circumference: 4 3/8" (Medium)
Grip Style: Perforated, ,cushion, ribbed, stitched, black

Grip Manufacturer: Gamma Ultra Cushion Contour Grip
Handle Length: 4 1/2"
Paddle Length: 15 1/4"
Paddle Width: 8 3/4"
Paddle Face Finish: Fibreglass
Core Material: Polymer honeycomb
Edge Guard: 1/8" overlapping paddle face
Manufacturer: Pro-Lite Sports
Made in the USA USAPA approved
Reviews