Element Pickleball Paddle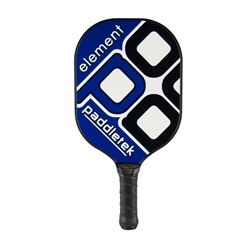 Element Pickleball Paddle
Paddletek is a most highly-respected pickleball paddle manufacturer and their paddles are constructed with a trademarked ProPolyCore which was specifically designed for pickleball playing to protect against core breakdown which eventually leads to dead spots in the paddle. 

The Paddletek Element pickleball paddle is one of the most popular paddles produced by Paddletek. It allows players to impart spin without losing any vital power. When the oversized hitting area is combined with the lightest possible weight, players achieve maximum manoeuvrability and quickness. The Element paddle weighs 7.5 to 7.8 ounces, which classifies it as a middleweight paddle. Middleweight paddles tend to provide the best combination of weight and control. The grip has a smaller circumference and is slightly cushioned. Available in Blue, Red and Yellow.
Element Specifications: Weight Average: 7.6 ounces, Grip Circumference: 4 1/8" (Small), Paddle Length: 15 5/8", Paddle Width: 7 3/4", Paddle Face: Polymer Vinyl w/screen print, Core Material: Polymer honeycomb.

Reviews