Elite Finesse Graphite Pickleball Paddle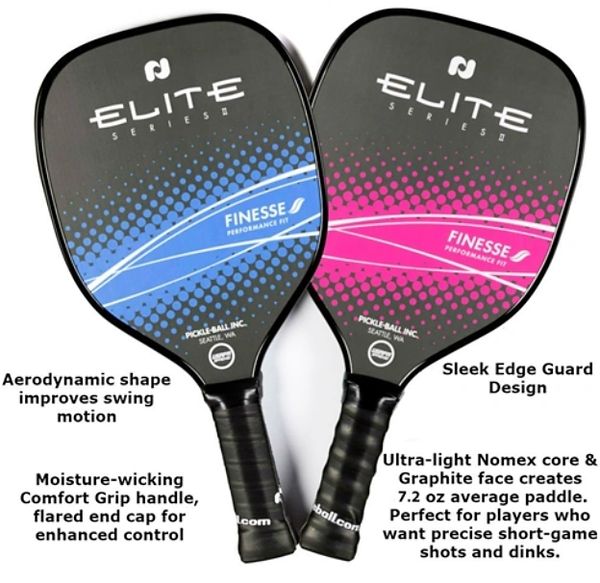 Elite Finesse Graphite Pickleball Paddle
The Elite Finesse Series II Graphite Paddle has a tapered design that provides a lightweight, aerodynamic feel. The slender base widens out toward a generous face that will provide players with plenty of reactivity thanks to its tough construction and broad sweet spot. The teardrop shape has become a popular option for all skill levels due to its manoeuvrable and well-balanced design. This updated version also comes with new colour options. 
The Elite Finesse Series II Graphite Paddle pairs its solid surface with a hardy Nomex core that is often used in aerospace design. While you may not need to survive zero gravity, you'll enjoy a durable paddle that you can count on game after game! The Elite Series name is printed across the face while "Finesse" and the Pickleball Inc. logo are shown near the center and lower corners of the paddle. The width is 8" and the handle has a small circumference and 5-1/4" length.
The Elite Finesse Series II Graphite Paddle is a well-rounded piece of equipment that keeps the pressure off your joints and on the competition. Colours: Blue and Pink.
Weight Average:  7.0 ounces
Weight Range: 6.7 - 7.2 ounces
Grip Circumference: 4 1/8" (Small)
Grip Tack: High
Grip Style: Flat black
Grip Manufacturer: Pickleball Inc
Grip Length: 5 1/4"
Paddle Length: 15 3/4"
Paddle Width: 8"
Paddle Face: Graphite
Core Material: Nomex honeycomb
Edge Guard: ¼" overlapping paddle face
Manufacturer: Pickleball Inc.
Reviews