Encore Pickleball Paddle: slight cosmetic blemishes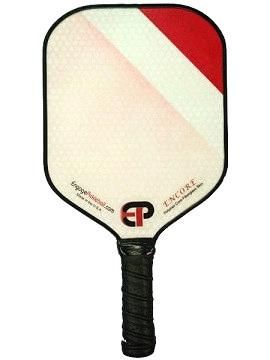 Encore Pickleball Paddle: slight cosmetic blemishes
Paddles sold with slight cosmetic blemishes have slight variations of the graphic which do not affect the paddles playing ability and the manufacturers guarantee will still apply. The blemishes are noticeable only upon close inspection.
Only the
Engage Encore
was specially designed to maximise deflection (power) and surface roughness (spin). Based on USAPA guidelines, the Encore hits both limits.
  This means that 
no paddle can ever have more of either: they can aspire to be equal but can never surpass.
  The player has the control (spin) to keep those hard shots in. 
The design of the Encore goes further, by maximising the amount of time the ball stays on the paddle (a concept originally developed by EngagePickleball), enabling the soft feel you need to command the soft (net) game. The Encore line of paddles have always been about control and ball placement  and having the perfect paddle to do just that (what you want with the ball) whether you're a hard hitter or a touch player. 
Colours 
available:  Red Fade only.
Core: Polyprophylene / Polymer Honeycomb
Skin: Specialised 'Proprietary' Fibreglass
Weight: 7.4 - 7.8 oz

Size: 15 1/2" long x 8 1/8" wide
Grip: 4 1/4"
USAPA Listed and Approved

Reviews