Engage Encore MX 6.0 Paddle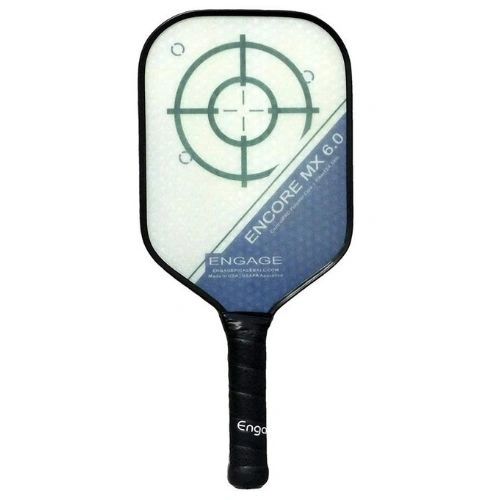 Engage Encore MX 6.0 Paddle
The Engage Encore EX 6.0 is part of Engage's new 'Thick Core' paddle line up.  The only 'Thick Core' paddles in the market with power and a large sweet spot. The Line-up consists of (2) different shapes:
 

Encore MX 6.0:  16.5" x 7.5" with a longer handle (5.6 inches) 

for those looking for more reach, power and spin

Encore EX 6.0:  16" x 8": industry standard shape for great balance between reach, power and control
Paddles with thicker cores have more control and a softer feel at the point of contact. Engage, known for their paddle engineering and innovation, created 'Core & Skin Dimensioning' have ensured that the sweet spot is as large as possible to give the paddle the right amount of power to put the ball away, while maintaining full control, balance and positioning. This reduces the temptation to over-swing to put the ball away, which means that you won't lose control and the ability to recover for the next shot.
Colours available: Blue, Purple & Green. The NEW 'Encore EX 6.0' line of paddles.  Innovation.  Creativity.  Ingenuity.  Exclusively by EngagePickleball. 
Specifications
·        Core: 'ControlPro' Polymer (with Vibration Control Technology)
·        Skin: FibreTEK' (for maximum forgiveness and spin)
·        Innovation: Core & Skin Dimensioning (to optimize power and sweet spot)
·     Weight range: 7.9 - 8.3 oz.
·        Size: 16.5" long x 7.5" wide
·        Grip Circumference: Standard 4 3/8" (medium)
·        USAPA Listed and Approved for Tournament Play 
Reviews