Engage Poach Infinity Paddle (second generation)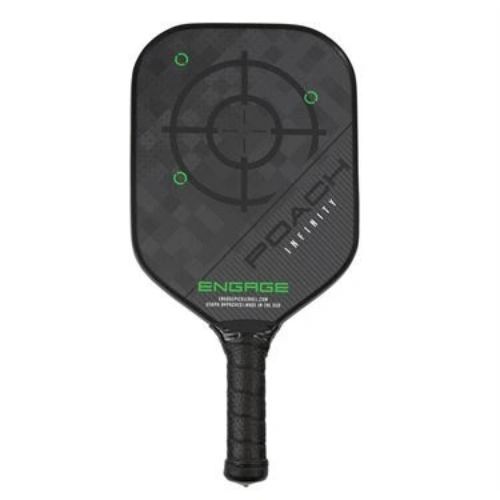 Engage Poach Infinity Paddle (second generation)
Engage claim that their NEW Poach Infinity is the most technologically advanced paddle in the market.  It is an extraordinary second generation paddle, combining one of the best selling paddles of all times (the Poach Advantage) with design and engineering to create a new level of paddle..
What's the difference between the NEW Poach Infinity as compared to the legacy Poach Advantage?
An advanced omni-directional texture

Friction enhanced skin for more spin

A larger sweet spot

Modified for a more solid feel (control) at the point of contact

Grip extension to increase strength / longevity
Most paddles today only have 1-2 layer skins but by using the latest in technology advancements Engage have developed a proprietary skin made of 6-layers that is the same thickness as the existing 1-2 layer skins. After vigorous testing, Engage found the optimal angle/pattern sequence for the 6 layers to produce the desired playability and maximum ball responsiveness. A proprietary design and concept developed by Engage. This concept and design not only creates the softest feeling paddle in the market, but holds the ball even longer than past generation skins. The texture is also new. Engage developed a new texture concept that helps induces more 'friction' to enhance ball rotation making it easier to place the ball where you want. 
Never before has so much research and development gone into paddle development. The NEW Poach Infinity is the most advanced paddle in the market designed to take the game and you to the next level.Innovation.  Creativity.  Ingenuity.  Exclusively by Engage Pickleball.
Specifications:
Core: Proprietary Polymer Composite (Control Pro 'Black' Technology)

Skin: Proprietary Omni-directional friction based 6-layer Composite

Weight: Standard 7.8 - 8.3 oz.

Size: 16" long x 8" wide

Grip Circumference: 4 1/4"

Grip Length: 5.5"

Colours: Blue, Red, Green, Purple


Vibration Control Technology




USAPA listed and approved for tournament play
Reviews