Franklin Signature Paddles to EU/Europe: Ben Johns, Christine McGrath and Aspen Kern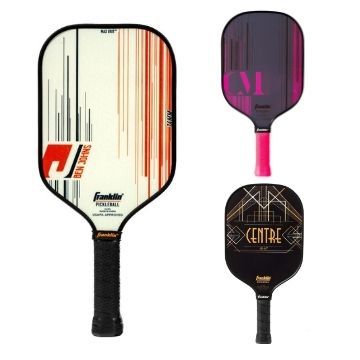 Franklin Signature Paddles to EU/Europe: Ben Johns, Christine McGrath and Aspen Kern
The price shown does not include international shipping, See below for details.
The Franklin Signature Paddles, the Ben Johns, the Christine McGrath and the Aspen Kern "Centre" push technology to a whole new level. All featuring Franklin's brand new MaxGrit™ textured surface technology designed for maximum spin and reduced vibration.  Additionally, they all have a polypropylene core and fibreglass surface layer which ensures a strong, durable base with an oversize sweet spot for dependable, effortless contact shot after shot. 
See our main site for Features and Specifications.
The price shown is net of UK VAT but does not include shipping. Shipping to the following countries costs £15 (added at checkout): Belgium, Denmark, Finland, France, Germany, Hungary, Netherlands, Portugal, Spain and Sweden. If you are in Cyprus, Malta, Norway or any other country please contact me for a quote to include shipping.  Click here for contact details
It is important to note that if you order from outside the UK there might be taxes to pay to get your parcel. These charges are usually levied when the order reaches the delivery address and you will be responsible for the payment of those. UK Pickleball Shop has no control over these charges and can't predict their amount. For further information please contact your local customs office before placing your order.
Reviews