Franklin X-Vibe Pickleball Paddle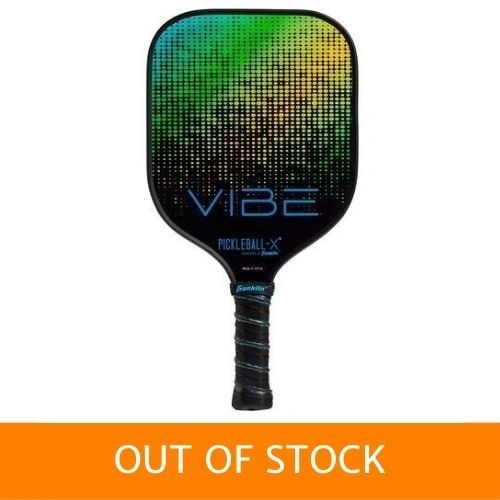 Franklin X-Vibe Pickleball Paddle
Sorry, this paddle is currently unavailable. Click here to view other paddles in a similar price range.
The Franklin X-Vibe by Pickleball-X is the perfect paddle for the player looking to hone their skills. This paddle has been created for all types of playing abilities. The crisp and predictable response make the player feel very plugged into the ball's trajectory and depth. The X-Vibe is equipped with a thicker handle allowing for more control over the paddle while swinging. The engineered thicker core materials give you a sweet spot that is consistent hit after hit.  The thick polymer core ensures that you get a reliable sweet spot. Even with regular use, the core remains solid and helps provide more control. It is well-suited for novices, intermediate and even advanced players.
Features:
·        Sweet spot: gives you predictable and consistent sweet spot. 
·        Advanced materials: State of the art Polypropylene honeycomb core provides ample durability in a lightweight package. 
·        Comfort: This paddle comes equipped with a form-fitting quality grip that won't slip from your hand during aggressive play. 
·        Durable: Franklin have engineered their edge band to provide the best protection from accidental court contact. 
Specifications:
Dimensions: 15.75"(length) x 8.25"(width)
Avg. Weight: 8.0 oz, Weight range 7.7 – 8.1 ounces
Face Surface: Fibreglass
Core Material: Polymer 
USAPA Approved     
Reviews