Gamma Dart Pink Ribbon Edition Paddle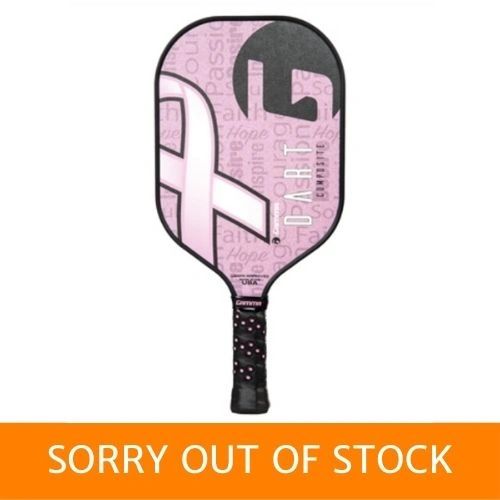 Gamma Dart Pink Ribbon Edition Paddle
The Gamma Dart Pink Ribbon Special Edition paddle is the speedy and durable qualities of the standard Dart wrapped in a beautiful pink pastel package. This special edition is made in support of Breast Cancer Research and would make the perfect present for the pickleball- playing lady in your life. The Dart is a lightweight paddle (average 7.4 ounces) that combines unrivalled speed with a polymer core for quick reactions and a controlled touch. 

The GAMMA Dart Pink Ribbon Edition offers a great amount of surface area thanks to its slightly squared edges and has a textured face to create spin. It has a small grip to enhance speed and manoeuvrability with a tacky feel so your hand won't slip during play. The design features the pink breast cancer awareness ribbon on its left side and the background is patterned with positive words like Courage, Hope and Faith.
The GAMMA Dart Pink Ribbon Edition supports a great cause and will support your game too with its comfortable construction and top performance.
Specifications:
Weight Average: 7.4 ounces
Weight Range: 7.3-7.5 ounces
Grip Circumference: 4 1/8" (Small) Actual grip sizes may vary up to 1/8".
Grip Style: Cushion, perforated, ribbed
Grip Manufacturer: Gamma Honeycomb Grip
Grip Length:4 3/4 "
Paddle Length:15 5/8 "
Paddle Width: 7 1/2"
Paddle Face Finish: Textured composite
Core Material: Poly Core
Manufacturer: Gamma
Made in the USA and USAPA approved

Reviews