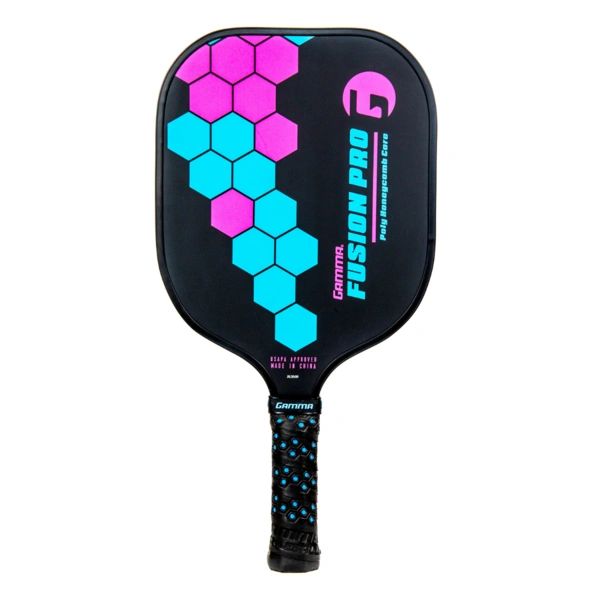 Gamma Fusion Pro Paddle
The FUSION Pro paddle is designed with a poly honeycomb core for superior feel, greater power and more control. The traditional shape of this paddle maximises the size of the hitting surface and gives you the best possible chance to connect properly with the ball and make sure that the ball goes where you want it to. The 5 inch handle length and smaller grip allows you maximum manoeuvrability and quickness at the kitchen line. The grip can be "built up" if you would prefer a medium or large grip, just send an email or call us when placing your order. The signature GAMMA Honeycomb Cushion Grip provides ultimate comfort during play. This paddle is a great choice for players of all levels. Colour: Blue/Pink.
Specifications and Features:
Weight: 8.0 ounces
Grip size: 41/8 (small). The grip size can be made bigger by the application of an over grip. Call before purchase if you would like this paddle in a bigger grip size

Hitting Surface: Graphite Composite

Core: 

Polypropylene honeycomb

Grip: Gamma Honeycomb Grip, 

Grip Length: 5 " (slightly longer than average

Paddle Length: 15 5/8", 

Paddle Width: 8-1/4", Paddle Thickness: 1/2"
USAPA Approved for sanctioned tournament play.
Reviews