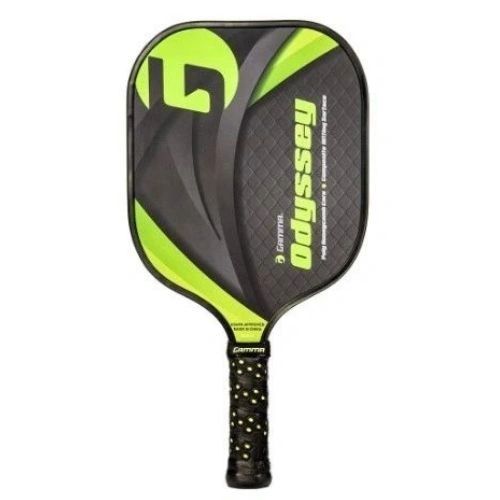 Gamma Odyssey Paddle
The Gamma Odyssey pickleball paddle is a premium paddle at a budget price. It features a polypropylene honeycomb core and a textured fibreglass hitting surface for extra power and spin. The traditional, wide-body shape allows you to connect properly with the ball on every stroke and ensures that the shot goes where you want it to. The small circumference grip allows you maximum manoeuvrability and gives extra hand-speed at the kitchen line. The grip can easily be "built up" if you prefer a medium or large size, just email or call us when you place your order. The GAMMA Honeycomb Grip matches the paddle's colour and features an extra tacky and firm surface. This provides high traction for maximum grip feedback and control. This paddle is an excellent choice for players who want to improve their all-round game and add power. 
Weight: ~8 ounces 
Core Material: Polypropylene 
Paddle Surface: Textured Fibreglass 
Paddle Length: 15.75" 
Paddle Width: 8.5" (wider than average)
Handle Length: 4.75" 
Grip Size: 4-1/4" (small) - can be made larger if you wish, just ask when placing your
Grip Type: GAMMA Honeycomb Grip 
Paddle Colour: Green/Black 
USAPA Approved for sanctioned tournament play. 



Reviews