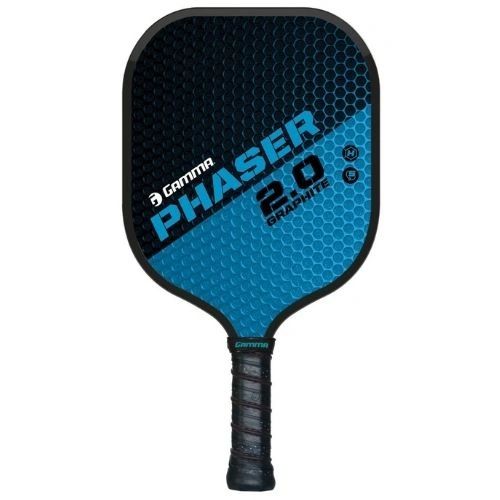 Gamma Phaser 2.0 Paddle
The Gamma Phaser 2.0 pickleball paddle is designed with a textured graphite surface for spin and placement and an aramid (nomex) core providing pop and power. This combination gives this paddle a lively, crisp, responsive feel. The smaller circumference grip gives the player maximum manoeuvrability for quick hand battles at the non-volley zone. The paddle also looks great with a striking blue/black design (black on top one side and blue on top on the other) and is the "traditional" shape. This paddle offers a performance experience and great touch, making it perfect for any level of play. Colour: blue/black only.

Weight: ~ 7.9 ounces
Hitting Surface: Textured Graphite
Grip Size: 4"
Grip: GAMMA Honeycomb
Grip Length: 5 " 
Paddle Length: 15 5/8" 
Paddle Width: 8-1/4"
Paddle Thickness: 7/16"
Core Material: Aramid Honeycomb 

USAPA Approved for sanctioned tournament play.
Reviews