Head Extreme Tour Lite Pickleball Paddle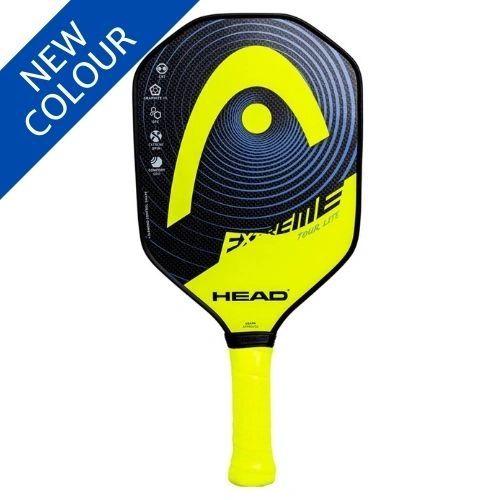 Head Extreme Tour Lite Pickleball Paddle
Head's Extreme Lite Pickleball Paddle combines all their latest technologies in a new lighter weight paddle with a diamond shape for more control.  Featuring Head's Control Stabilizer Technology (CST) that optimises torsional stability (stability as the wrist twists) and distributes the weight of the paddle to reduce vibration it provides great feel and touch.  This paddlee Extreme Lite also includes Head's  Optimum Tubular Construction (OTC) polypropylene honeycomb core and a carbon graphite hitting surface  with Extreme Spin technology for maximum feel and touch. Finally it has a Comfort Grip to make sure that it feels great in your hand. 
The HEAD Extreme Lite Pickleball Paddle will keep your reactions sharp, your hand speed quick at the kitchen line, and allow you to take advantage of openings with time to spare. Colours: Yellow or White 

Specifications:

Weight: 7.1-7.3 oz, 7.2 oz average (lightweight)
Core: 11 mm, 7/16" polymer core
Face: Textured carbon graphite
Length: 16" 

Width: 7 7/8"
Grip: Comfort Grip

Grip Circumference: 4 1/4" (medium)
Grip Length: 5"
Meets all USAPA's specifications
Reviews