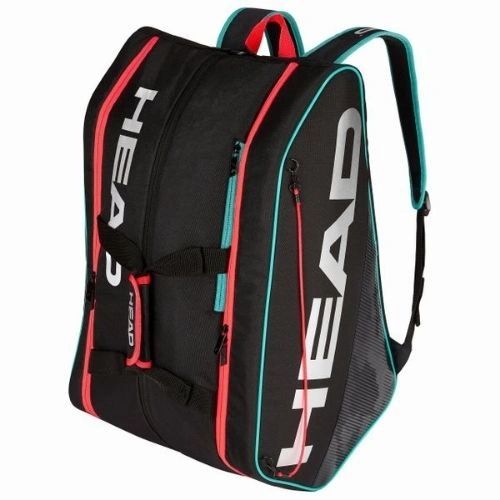 HEAD Tour Supercombi bag
The HEAD Tour SuperCombi Bag has many handy compartments that make it simple to keep your gear organised and safe. In addition to the central area, it has mesh accessory pockets, a large compartment for up to 4 paddles and a vented bottom compartment for shoes. It comes with a separate bag for wet clothing and even has a section for eyewear that's double padded for maximum protection. It is a very large bag and measures: 63x33x41cm,  24.8 x 13 x 16 inches.
The HEAD Tour SuperCombi Bag has a fence hook and both top and end carry handles so you can move and store it in whatever way works best. There is a removable glove cord and adjustable shoulder straps. The bag is primarily black with bright stripes of blue and red along with the HEAD logo on the side and top shown in white. 
The HEAD Tour SuperCombi Bag makes it easy to carry and find whatever equipment you need to travel and play smart.
Reviews