Heavy Duty Pickleball Court Tape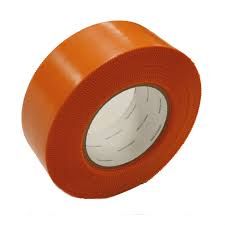 Heavy Duty Pickleball Court Tape
The Heavy Duty Court Tape is a great option for those who want something a little sturdier than the original court tape. Each roll is 2 inches wide and 200 feet long which will line an entire pickleball court. This tape has an extremely resilient polyethylene, vibrant orange backing. This colour was chosen specifically for its noticeable hue. It will easily attach to the court thanks to the single coated, synthetic rubber adhesive.  
The Heavy Duty Court Tape is quite conformable and can stick to most every surface. It will adhere best to surfaces free of oil, powder, dust or other small particles so be sure to give your court a good sweeping prior to application. This tape could leave residue when it's removed, so as with any bonding agent, we suggest testing this product on a small patch of surface prior to application to determine ease of removal. Tips for removing tape can be found under the technical specifications tab. This tape will be affected by rain and moisture and we cannot guarantee longevity of application in rainy/wet conditions. 
Specifications:
2 inches wide and 200 feet long (enough tape for 1 full court: 2x44' sidelines, 2x20' baselines, 2x20' non-voley zone lines, 2x15' service box lines).

We recommend applying a test spot to determine adhesion and ease of removal.

Here are some helpful suggestions from the manufacturer on removing tape: 
• Rubbing alcohol 
• Citrus-based cleaners
• Glass cleaner 
• Heat 
If the tape has been down for a long period (2+ months), prior to removal heat can be applied with a hair dryer as tape is peeled back. The heat softens the adhesive and little residue should remain.
Reviews