Invikta Amped Pickleball Paddle: Lightweight Model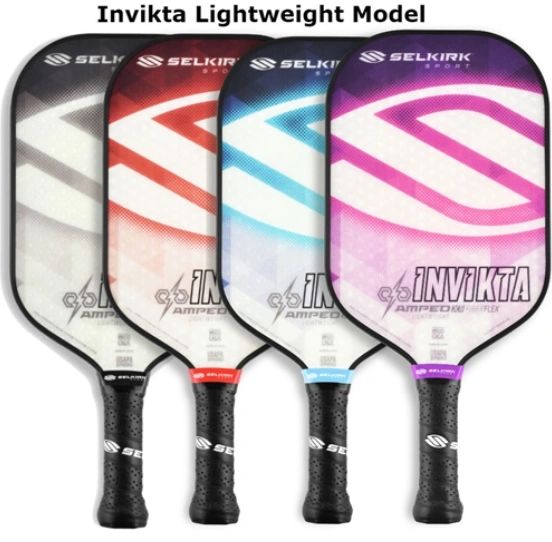 Invikta Amped Pickleball Paddle: Lightweight Model
NEW STOCK NOW IN!
Selkirk's AMPED Invikta X5 was designed in conjunction with national champion Tyson McGuffin to provide extreme reach without reducing the paddle's sweet spot. As a result, the Invikta has power, a pleasant touch and versatility that will allow you to react quickly to any scenario. Unlike most elongated paddles, it also has a sizable handle length that allows for more maneuverability and comfort.  
The Invikta X5 comes with a versatile medium grip which measures 5-1/4" long. The weight range is 7.4 - 7.7 oz for the light model The polymer core reduces impact while creating a feeling of consistent control. Selkirk's curving "S" logo is located near the paddle's head while the model name is printed below.  
The AMPED Invikta X5 will have you driving balls down the court and winning matches with its well-balanced yet powerful construction.
Specifications:
Weight Range: 7.4-7.7 (Light Weight Model)
Grip Circumference: 4 1/4" (Small/Medium) 
Handle Length: 5 1/4
Paddle Length: 16 1/2"
Paddle Width: 7.375
Face: FiberFlex unidirectional face (fiberglass) 
Core material: X5 Polymer honeycomb (9/16" thick)
Edge Guard: EdgeSentry edge guard 
Made in the USA
Reviews