JOOLA Ben Johns Hyperion CAS 13.5 Graphite Paddle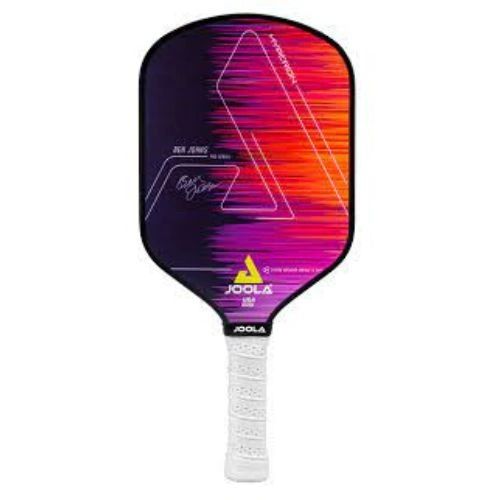 JOOLA Ben Johns Hyperion CAS 13.5 Graphite Paddle
The Ben Johns Hyperion CAS 13.5 Graphite Pickleball Paddle by JOOLA has a 3.5mm (0.53") core for manoeuvrability and hand speed, a punchy feel, and an elongated, versatile shape approved by top player Ben Johns himself. This design delivers excellent reach and follow-through, plus it's topped off with JOOLA's innovative sand-blasted Carbon Abrasion Surface (CAS) to add spin to your game that is tricky for your opponents to deal with. The face is comprised of two fibreglass layers and one layer of carbon fibre to provide enhanced defensive capabilities and control over dinks, plus plenty of power to drive the ball.

The Ben Johns Hyperion CAS 13.5 Paddle weighs 8.0 – 8.4 oz which will give you the power needed to drive the ball through gaps in your opponents' defence. The overall length is 16-1/2", with a 5-1/2" long handle that leaves room for double-handed backhands. Its grip circumference is 4-1/4" which creates a mix of cushioning and security, especially when paired with the ergonomic ridged texture and sweat-reducing perforations inherent in JOOLA's "Sure-Grip" design. 
The Ben Johns Hyperion CAS 13.5 Graphite Paddle will let you cover the court, set the game's pace, and easily change up your tactics to keep your opponents guessing. One colour only: a fabulous mixture of purple, pink and orange!
Specifications:
Weight Average: 8.2 ounces, Weight Range: 8.0 - 8.4 ounces
Grip Circumference: 4 1/4" (Medium) Actual grip sizes may vary up to 1/8"
Handle Length: 5.5", Paddle Length: 16.5", Paddle Width: 7.5"
Paddle Face: Hybrid-Ply Multi-Layered Face with Carbon Abrasion Surface (CAS) Texture
Core Material: Response Polymer Core
Core Thickness: 13.5mm (0.53")
Edge Guard: 1/4" overlapping paddle face
Manufacturer: JOOLA Pickleball
Made in the China

Reviews