JOOLA Ben Johns Hyperion CFS 16 Graphite Paddle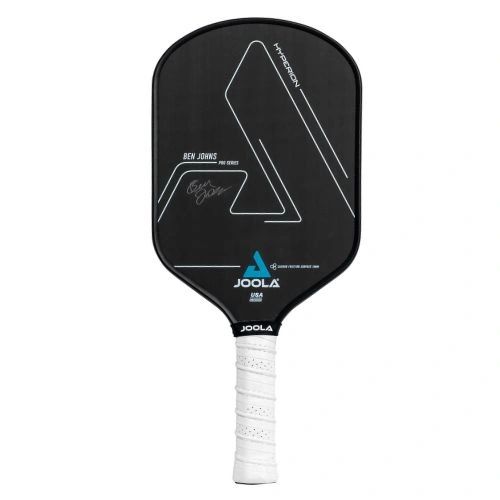 JOOLA Ben Johns Hyperion CFS 16 Graphite Paddle
The Ben Johns Hyperion CFS 16 Graphite Paddle by JOOLA gives you the opportunity to experience greatness: not only due to its materials and construction, but because you'll be using the very same paddle wielded by Ben Johns, the most highly ranked player in men's singles, doubles, and mixed doubles pickleball history. The design features JOOLA's unique foam-injected perimeter ("Hyperfoam Edge Wall") surrounding a 16mm (0.63") thick polymer core to improve consistency, weight distribution and the size of the sweet spot. On the exterior of the paddle, you will appreciate JOOLA's textured Carbon Friction Surface (CFS) which takes the paddle's capacity for spin to the next level and you'll be able to shape your shots in a split-second.

The Ben Johns Hyperion CFS 16 Paddle measures 16-1/2" in length, helping to maximise your reach and allowing you to dig out those low balls and follow through on every swing. The 5-1/2" long handle allows for double-handed shots, fast becoming a must-have for a topspin roll down the middle, and to put a ball away quickly. At 0.63" the core is much thicker than average in order to dampen impacts, maximise control and to reduce the time needed to recover from off-centre strikes. The paddle weighs in at 8.2 – 8.6 oz but is so well-balanced that it doesn't feel heavy and it gives you enough swing-weight without the need for a big windup. This is crucial for those back-and-forth volleys at the kitchen line, often seen in more advanced play, where a big swing at the ball can lose you the rally. The grip circumference is 4-1/4" with perforations that help to minimise moisture and has comfortable ridges which let players align their fingers by feel alone. Every detail is to Ben's exacting specifications.
The Ben Johns Hyperion CFS 16 Graphite Paddle by JOOLA Pickleball delivers everything you could need to maximise your potential and to hone your skills and maintain control over every inch of the court. Available in one colour: Black.
Specifications:
Weight Average: 8.2 ounces, Weight Range: 8.0 - 8.4 ounces
Grip Circumference: 4 1/4" (Medium) Actual grip sizes may vary up to 1/8"
Handle Length: 5.5", Paddle Length: 16.5", Paddle Width: 7.5"
Paddle Face: Hybrid-Ply Multi-Layered Face with Carbon Abrasion Surface (CAS) Texture
Core Material: Response Polymer Core
Core Thickness: 13.5mm (0.53")
Edge Guard: 1/4" overlapping paddle face
Manufacturer: JOOLA Pickleball
Made in the China

Reviews