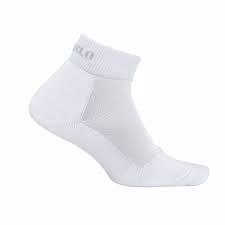 Thorlos Pickleball Socks
Remember, socks are for life, not just for Christmas! Introducing Thorlos® Pickleball Socks. At last the number one tennis sock manufacturer has seen the pickleball light!
Whether playing singles or doubles play longer in Thorlos pickleball socks. Thorlos signature padding provides critical protection in the weight-bearing areas of the feet, helping reduce impact and blisters while managing moisture through superior wicking action. Thorlos Pickleball Socks protect your feet while playing on all court surfaces, allowing you to play longer without pain or discomfort. Focus your attention on the game and don't worry about your feet.
Unisex ankle length "mini crew" style in white only.
Shipping is free when this product is ordered as an "add on" i.e. purchased with something else but if purchased one its own then the standard £3.95 postage charge applies. 
Reviews