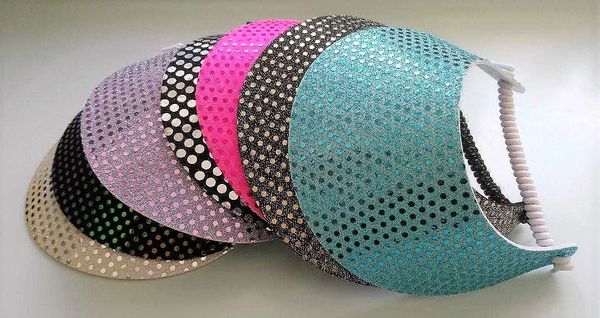 Ladies foam visor
The
Foam Visor
is a must-have accessory for every pickleball playing lady. It really adds that extra stylish touch to every outfit, pumping it up from a B-list outfit to a winning ensemble. The sparkling visor reflects the sunlight, lighting up the court with your gorgeous piece of flair. It truly is the perfect way to stand out from every other woman on the court and to show off your inner diva. 
The Foam Visor has a foam base attached to a sturdy coil fastener which hugs your head to ensure an absolutely perfect fit. The tightness is adjustable simply by pulling the fastening attachment further through the hole and tying it off. This is a hat that will surely stay in place. The brim extends out far enough to protect your delicate eyes from the harmful sun rays but not so far that it interferes with your vision.
The Ladies Foam Visor is a necessary accessory for any woman who needs a visor for every outfit.
 Available in 
Blue, Black, Silver and Pink.
Reviews