Gamma Legend Pickleball Paddle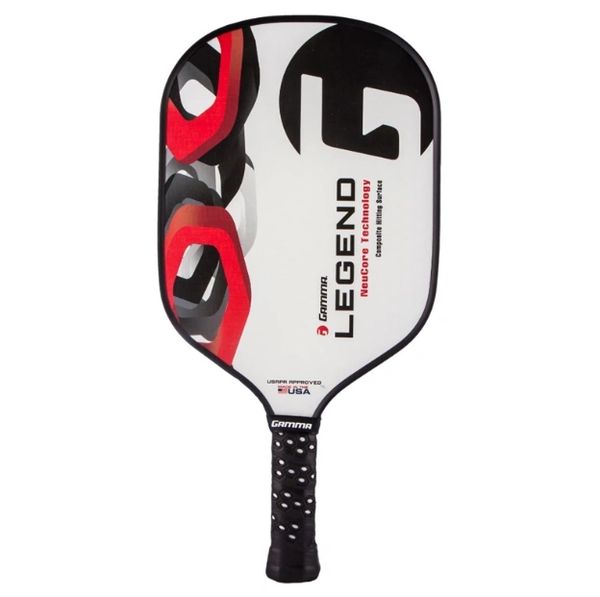 Gamma Legend Pickleball Paddle
Check out the Gamma Legend Pickleball Paddle with their fabulous new Neucore technology. It offers a high amount of power without a reduction in touch or sensitivity. Thanks to the 25% thicker polymer NeuCore technology, this paddle has a soft feel that reduces shock but still allows you to put away winners with ease. The composite face adds to the amount of strength you can add to every shot. With a relatively broad face and comfortable grip, players can take the punch out of opponents' hits while setting up advantageous openings. 
The Legend Composite Paddle averages a weight of 8.1 oz and has a 4-3/4" handle length. The small grip size is perfect or those who enjoy a manoeuvrable feel or it can be easily built up with an overgrip for more cushioning. The design has a monochrome background with the Gamma logo placed in the upper right corner. To the left, a series of looped, multicoloured shapes embellish the side of the face.
The Legend Composite Paddle allows you to unleash your greatest pickleball potential through responsive handling and powerful construction.
Specifications:
·        Weight Average: 8 ounces, Weight Range: 7.9-8.4 ounces 
·        Grip Circumference: 4 1/8" (Small) Actual grip sizes may vary up to 1/8")
·        Grip Style: Cushion, perforated, ribbed
·        Grip Manufacturer: Gamma Honeycomb
·        Grip Length: 4 3/4"
·        Paddle Length: 15 7/8" , Paddle Width: 8"
·        Paddle Face Finish: Textured Composite 
·        Core Material: NeuCore Poly Core
·        Manufacturer: GAMMA, Made in the USA, USAPA approved
Reviews