Lightweight Portable Pickleball Net System: Postage to EU included!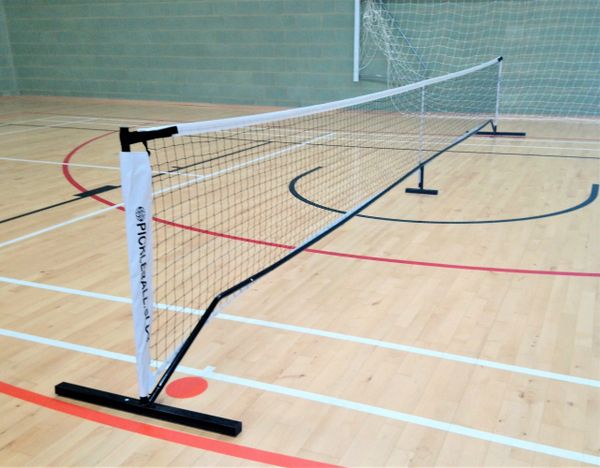 Lightweight Portable Pickleball Net System: Postage to EU included!
This price includes international shipping to Ireland or other non UK destinations within the EU. Any UK customers should use the separate listing on my site for this product to take advantage of the lower price.
Introducing the Pickleball Club portable net system, designed and made for the UK Pickleball Shop allowing us to offer customers a more affordable net system. The freestanding metal structure features a 22ft wide net, which is 36" at the sidelines and 34" at the centre and adheres to all official regulations set by the USA Pickleball Association (USAPA) and the International Federation of Pickleball (IFP) for tournament grade nets.  The Pickleball Club net was the official net of the English Open 2019.

What's the difference compared to other nets? 
First, the price of £109 delivered makes it considerably cheaper than other nets. 
Second, there's the weight. At only 18.5lbs (8.5KGs), it is much lighter than other nets and just over half the weight of the oval Picklenet system: a key factor if you'll be carrying nets around particularly if you have to transport more than one net at a time.
Third, the net has traditional round steel tubes (powder coated and finished in black gloss) that have metal push buttons so they slot together with a 'click' easily and securely providing added stability to the frame and making it easier for someone to erect and particularly to dismantle the net on their own.
The net conforms to all pickleball regulations and the central support stick is fibreglass so won't easily bend or break. The carry bag is roomy making packing the net away a doddle and it has carry handles for easy transportation.
Key Features: 
Fantastic low price

Lightweight: 18.5 pounds: a lot lighter than other systems making it easier to carry around

Fibreglass central pole will not easily bend or break
Button system to clip the poles together for added stability and easy dismantling (the buttons can be easily removed if preferred)
Velcro tension strap when placed just below the top of the two end poles ensures that the net is always at the regulation 36" on the sideline of the court

Good ground clearance: the net is well off the ground allowing players easily to hit or kick the ball back underneath the net when necessary

L

arge net bag: big enough to allow the poles and net to be stored without too much fuss or special packing
Reviews