Neutron 2.0 Graphite Pickleball Paddle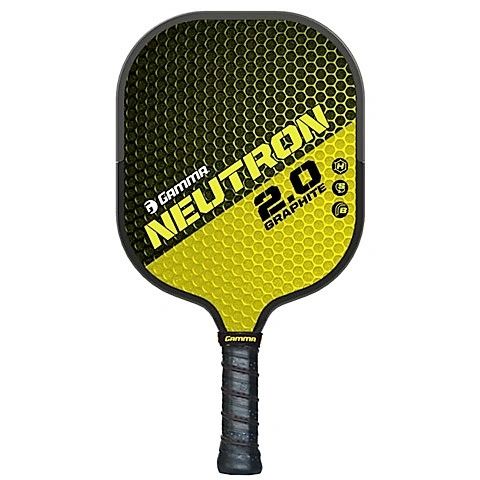 Neutron 2.0 Graphite Pickleball Paddle
Gamma's pickleball paddle collection has had a makeover! Their 2.0 collection offers all the same brilliant paddles but each with a retextured surface to offer a slightly 'scratchy', rough feel to the face that helps add a little pop and spin to the ball.

The Gamma Neutron 2.0 feels like a feather but packs a serious punch! This paddle is made with a hard graphite face that will give your hits an extra jolt of power despite its light weight. You'll be speedy enough to keep opponents guessing but the broad face will also allow you to defend against heavy slams. The Neutron 2.0 has a slight texture to it which makes adding spin to your hits easier than ever. The unusual flush edge guard allows you to forget about mis-hits while taking advantage of the 8-1/8" width. The small handle is great for getting in some wrist action, and the attractive honeycomb pattern will have you playing in style. 
The Neutron 2.0 proves that you don't have to be a slammer to outplay the competition.
Technical Specifications:
Weight Range: 6.8-7.2 ounces 
Grip Circumference: 4 1/8" (Small) 
Grip: Gamma Honeycomb 
Grip Length: 5 1/4"
Paddle Length: 15 3/8" 
Paddle Width: 8-1/8"
Paddle Face Finish: Textured graphite 
Core Material: Nomex honeycomb 
USAPA Approved
Made in China
Reviews