Omega Status Pickleball Paddle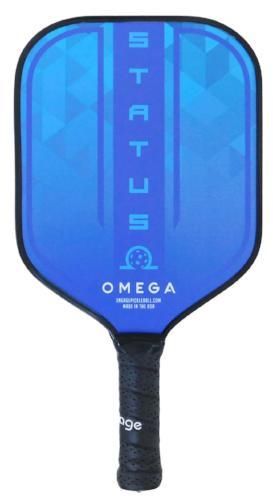 Omega Status Pickleball Paddle
The Omega 'Status' paddle by Engage is a true bargain at less than £50. Great for beginners and equally great for intermediate players who just want a good-quality paddle for casual play with friends. The Omega Status has a polymer core with a soft digitally printed skin that holds the ball to provide plenty of power, an enhanced feel and super control. It also looks great.
Engage believe that the Status lives up to its name and is the best made low-cost paddle on the market with the same premium trim and grip found on higher-end paddles.  
The Status is available in two fantastic colours: Ice Blue and Fierce Yellow. The Fierce Yellow colour resembles a Tequila Sunrise for cocktail lovers. Also available in packs of two/four paddles with indoor balls.
Paddle Specifications:
Polymer Core and Soft Composite Skin. 
Large surface area measuring 15 1/2" long x 8 1/16" wide.
Weighs between 7.7 - 8.2 ozs.
Industry standard 5" grip length and 4 1/4" circumference.
Colours : Fierce Yellow or Ice Blue.
Reviews