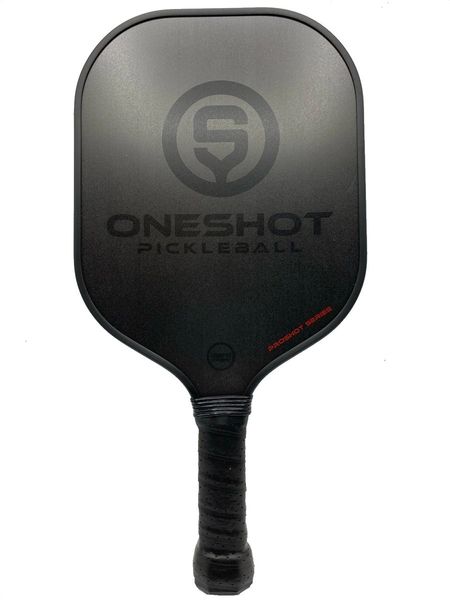 OneShot ProShot
The OneShot Pickleball ProShot Paddle has a versatile design that will allow you to change up your style of play. It has a longer handle for double-handed backhands but still provides a wide face so you can make use of a broad sweet spot. Whether you're attacking or defending against fast volleys, this paddle has the required speed, heft and quality to back up your shots.

The OneShot Pickleball ProShot Paddle is made with a reactive graphite surface that has USAPA-approved texture to provide extra spin. The inner polymer core is thick enough to offer more power while dampening vibrations. It weighs 7.4 - 8.1 oz. The grip comes in a medium circumference and the paddle's design features a sleek, black surface with the OneShot name and logo in the centre.

The OneShot Pickleball ProShot Paddle was made to adapt to your needs on the court and improve consistency. Professional light/midweight pickleball paddle recommended for beginners to advanced players. Popular with tennis, badminton, table tennis, racquetball and squash players.
Material: Core- Polypropylene Honeycomb; Surface- Textured Graphite.
Light/Medium weight: between 7.4-8.1 oz.
Height 15.75", Width 7.9", Handle length 5.4" and Grip size 4.25".
Forgiveness: A great balance between core thickness and overall design that allows players to utilise most of the paddle's surface with the same response rate.
Power: The ideal weight and material design to provide each player the appropriate ball acceleration shot after shot.
Accuracy: A textured graphite surface increases the player's accuracy for ball placement.
USAPA/IFP Approved
Reviews