OneShot ProShot Graphite Paddle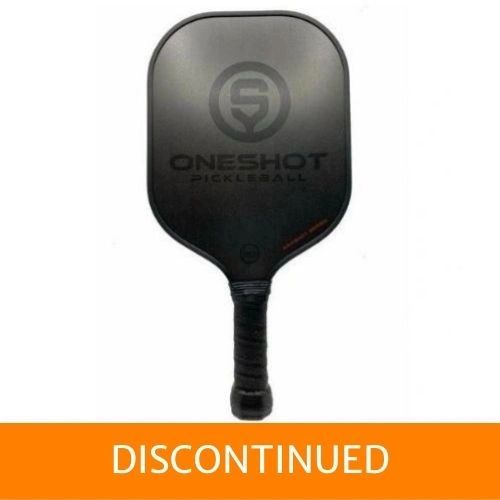 OneShot ProShot Graphite Paddle
Sorry, this paddle has been discontinued by the manufacturer. The Proshot 2.0 will be coming soon!
The OneShot ProShot Graphite Pickleball Paddle has serious attitude. Its looks combine with a graphite face and polymer core to give you the perfect balance of power and control.  The versatile design will allow you to change up your style of play with a slightly longer than average handle (5.4 inches) to allow for double-handed backhands where necessary and quickness at the non-volley zone but still with a hitting surface wide enough for you to make use of a large sweet spot. Whether you're attacking or defending against fast volleys, this paddle has the required speed, power and touch to back up your shots.

The OneShot Pickleball ProShot Paddle is made with a reactive graphite surface that has the maximum texture allowed under USAPA rules to provide extra spin and control. This means that no other legal paddle will have a more textured or "scratchy" surface. The inner polymer core is thick enough to offer more power and to dampen vibrations. It weighs in at the perfect midweight level of  7.8 - 8.0 oz - not too light and not too heavy.. The grip has a small to medium circumference (4.25 inches) and the paddle's design features a sleek, black surface with the OneShot name and logo in the centre.
Specifications: Height 15.75", Width 7.9", Handle length 5.4", Grip size 4.25", USAPA/IFP Approved
Reviews