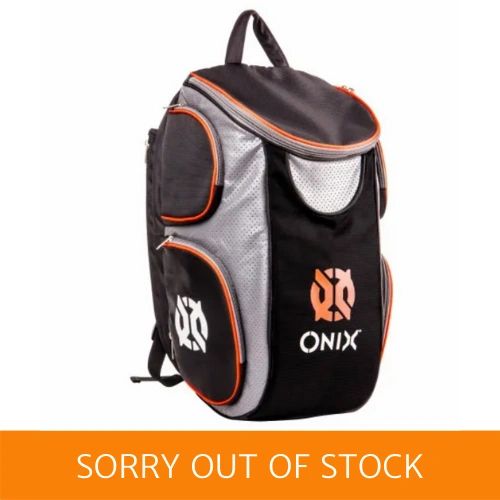 Onix Pickleball Backpack
The ONIX Pickleball Backpack.is compact yet fabulously spacious and is designed to carry everything you might need. There are no less than five zippered storage areas (one of which is insulated to help keep things chilled) in which to store your phone, money, water bottle, towels or anything else that you like to keep handy and easily accessible. There's even an ingenious hidden zippered compartment at the bottom of the bag for your sweaty sports wear or shoes to prevent them from contaminating your other stuff! The backpack itself sits upright for easy packing and the main compartment is spacious enough for 12 or more paddles. There's also another zippered pocket inside the main compartment for extra-precious possessions. This bag is designed to keep you cool with breathable mesh panels on the front and back and features the ONIX logos on each side and on the straps. The main colour is black with each compartment edged in contrasting orange for an extremely stylish look. 
Here's an independent review of pickleball backpacks on youtube. Guess which one is the reviewer's favourite?
Click here for backpack review)
Dimensions (approximate): 50 x 30 x 26 cm, 
Reviews