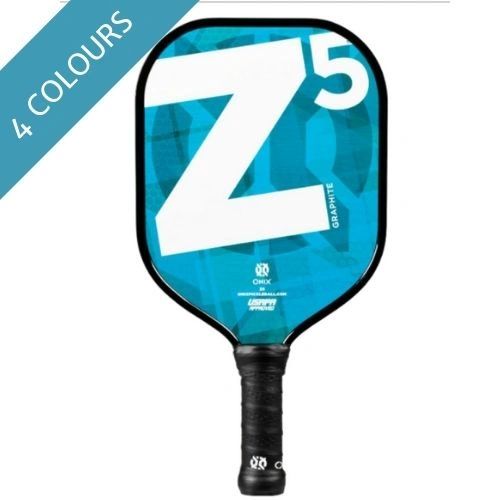 Onix Z5 Graphite Paddle
Onix Graphite Z5 Pickleball Paddles are extremely popular in the pickleball world. They have a solid feel that is very attractive to pickleball players. You'll see the Z5 Graphite in the hands of players at the highest level of competition.
This superior-quality paddle has a classic pickleball shape and is well-balanced in the hand for great control and winning hits. The Graphite Z5 has a large hitting area thanks to its 8-1/8" wide face, which means the sweet spot on this paddle is big as well. This paddle weighs between 7.5 to 8.2 ounces- many players enjoy playing with paddles that fall within this range.

Choosing the Graphite Z5 paddle is a fantastic decision you'll never regret making.
Specifications:
Weight Average: 7.9 ounces
Weight Range: 7.5 – 8.2 ounces
Grip Circumference: 4 1/4" (Medium) Actual grip sizes may vary up to 1/8".
Grip Tack: Medium Grip Style: Perforated cushion grip
Grip Manufacturer: ONIX
Grip Length: 5"
Paddle Length: 15 1/2"
Paddle Width: 8-1/8"
Paddle Face: Graphite
Core Material: Nomex honeycomb
Edge Guard: ¼" overlapping paddle face
Manufacturer: ONIX Sports (formerly S-Type Sports)
This model is manufactured in both Mexico and China

Reviews