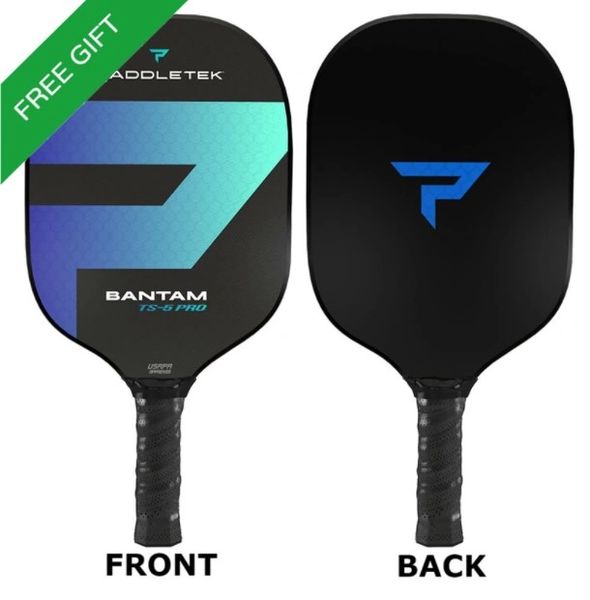 Paddletek Bantam TS5 Pro
The new 
Bantam TS-5 Pro
takes the performance of the excellent TS5 up to a whole new level. With Paddletek's innovative 916 Pro core, this paddle creates a larger, more consistent sweet spot so that you're ready to return any shot! The increased core thickness spreads the ball impact energy out in a more consistent way, giving the paddle better play across the entire face. 
This paddle is designed for players who want a high performance paddle that isn't head heavy. The original TS-5 is known for exceptional touch and control and good power but in a light-weight package and the new TS-5 Pro maintains what was great about the original but has the addition of a bigger, more consistent sweet spot which leads to increased shot making control. 
The TS-5 Pro features Torsional Vibration Control that helps improve the size of the sweet spot side to side and help you have successful shots on off-centre mis-hits.
The Bantam TS5 Pro is available with a medium grip circumference (4 3/8 inches) and in a choice of Blue or Red.  Flip design (different on each side) and in weight range 7.7 - 7.9 ounces.
Specifications:
Weight Range:  7.7-7.9 ounces
Grip Circumference: 4 3/8" (medium) Actual grip sizes may vary up to 1/8".
Handle Length: 4 3/4", 
Paddle Length: 16", 
Paddle Width: 7 7/8"
Paddle Face : Textured Fiberglass Epoxy Hybrid - UV coated
Core Material: Polymer honeycomb
Core Thickness: 9/16" (0.5625")
Edge Guard: 1/8" overlapping paddle face
Manufacturer: Paddletek. 
Made in the USA. USAPA approved
Reviews