Paddletek Tempest Reign Pro Graphite Paddle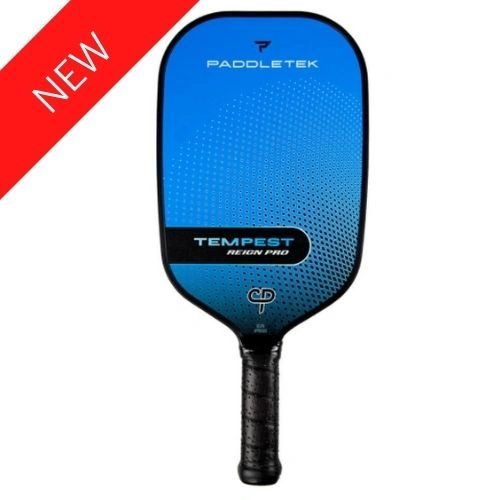 Paddletek Tempest Reign Pro Graphite Paddle
The Paddletek Tempest Reign Pro takes the Smart Response Technology in the standard Tempest Pro and makes it even more versatile thanks to an elongated shape. If you crave extra reach, plenty of power and a higher sweet spot, then this is the paddle for you. The slender design keeps the weight at a reasonable medium range, while the handle still provides enough room for grip adjustment despite the overall length.
The Paddletek Tempest Reign Pro Paddle weighs 7.5 – 8.0 oz and has a medium grip circumference. The graphite face is highly responsive and durable. Inside, the polymer core reduces vibrations while providing a broad, sensitive sweet spot. The face width is 7.5", making it trimmer than the original Tempest Pro but still plenty wide enough to protect your kitchen line with effective blocks. The Tempest Reign Pro Pickleball Paddle by Paddletek helps players adapt to the quickly changing dynamics of matches, and seize on more opportunities for winning points!
Specifications:
Weight Range: 7.5-8.0 ounces, average 7.7 ounces
Grip Circumference: 4 1/4" (Medium) Actual grip sizes may vary up to 1/8"
Core Material: Polymer Honeycomb
Core Thickness: 9/16" (14.29 mm)
Made in USA & USAPA approved
Reviews