Complete starter pack: Pickleball Club net, 4 graphite Club paddles and 4 indoor Jugs balls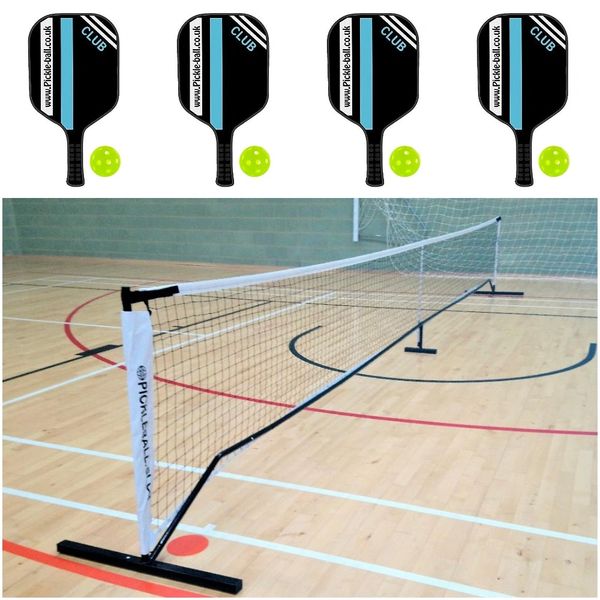 Complete starter pack: Pickleball Club net, 4 graphite Club paddles and 4 indoor Jugs balls
UNFORTUNATELY, THIS BUNDLE IS CURRENTLY OUT OF STOCK DUE TO THE IMPACT THE CORONAVIRUS HAS HAD ON PRODUCTION TIMETABLES AND SHIPPING SCHEDULES. MORE ARE IN PRODUCTION BUT DUE TO THE LEAD TIME I DON'T EXPECT THEM BACK IN STOCK UNTIL EARLY JUNE. PLEASE CALL OR EMAIL ME IF YOU HAVE ANY QUESTIONS OR YOU WANT TO PLACE AN ORDER FOR WHEN THEY'RE BACK IN STOCK.
The Pickleball Club complete starter set is the most affordable set on the market in the UK. Featuring a Club net, four graphite Club paddles and four white Jugs indoor balls, this set is fantastic value priced to help clubs/groups get started playing the wonderful sport of pickleball.
The Club net system was produced in response to many requests for a cheaper and lighter version of the popular PickleNet. It weighs in at just 18.5 pounds, making it much easier to carry around than other nets. It conforms to the USAPA/IFP rules on portable nets and is being used at the upcoming English OPEN tournament in Nottingham. Like other net systems, the poles slot together easily to make a study frame and the net remains at the correct height of 34 inches by a fibreglass central pole that won't easily bend or break.
The paddles with the pack are the graphite Club paddle: medium weight but still strong and robust so are perfect for beginners and improving players. These paddles are not sold individually but only to clubs and groups so you will always know which are yours.
The balls are the white Jugs indoor ball, currently the most popular ball in the UK. If you would like outdoor balls instead, please let me know when placing your order as I can substitute in four outdoor Ace 2 balls instead.
Reviews