Complete starter pack: Oval Picklenet, 4 Graphite Club paddles and 4 indoor balls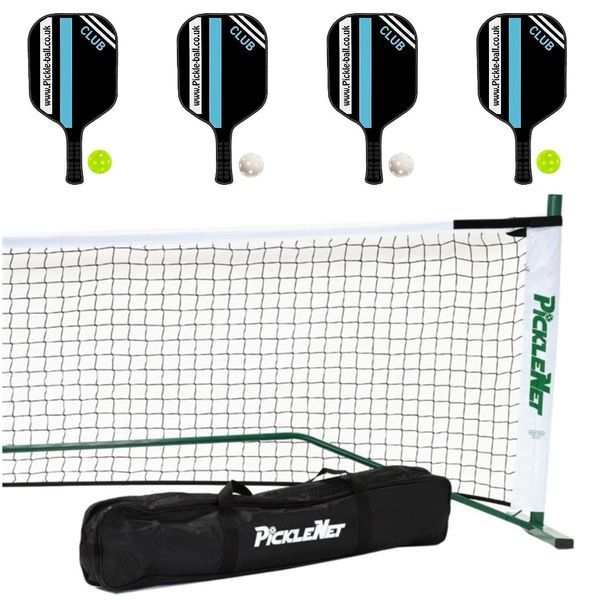 Complete starter pack: Oval Picklenet, 4 Graphite Club paddles and 4 indoor balls
Please contact me for shipping outside of the UK.
The Pickleball Club Complete Starter Pack is an affordable and smart way to start a new pickleball club or for existing clubs, schools and leisure centres to provide everything needed to play this wonderful sport.
The Graphite Club paddle is the perfect choice for Clubs, groups and schools. It is robust with a graphite hitting surface to assist control. The paddle is light enough for anyone to use but heavy enough to allow beginners o give the ball a satisfying hit and keep rallies going. Once a player has experienced a pickleball rally they will be well and truly hooked!
The oval PickleNet is the "Rolls Royce" of pickleball nets. Whilst it is possible to play a game of pickleball with a lowered badminton net there are several drawbacks such as the difficulty in securing the net to the correct tournament height, preventing it sagging in the middle during play and the uprights hindering a players line of sight during a game. A tournament standard pickleball net will solve all of these problems. The new Picklenet with oval poles is the perfect choice, can be assembled in a flash and is USAPA approved. 
The balls are indoor by Jugs in lime green or white, subject to stock availability. If one particular colour is required please state this at the time of your order.
Pack Features:
One (1) portable picklenet, four (4) Graphite Club pickleball paddles and four (4) Jugs indoor balls.
Reviews