Pickleball Club Portable Net System: full-size net, fantastic value!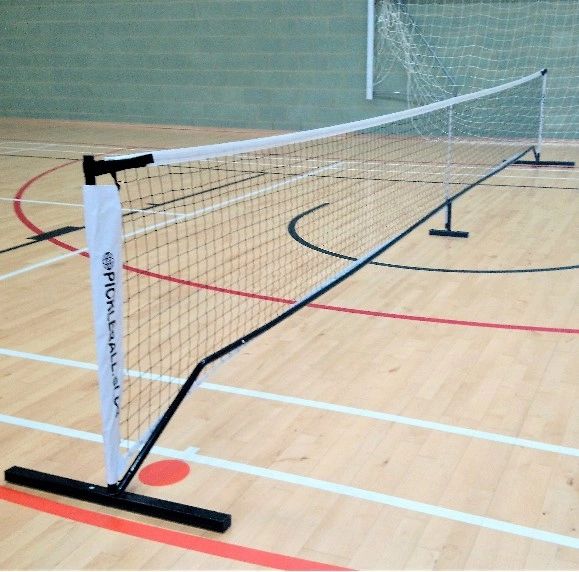 Pickleball Club Portable Net System: full-size net, fantastic value!
Special offer: the Pickleball Club net is priced at £110 but is only £95 for members of Pickleball England: NEW STOCK DUE 23 MARCH 2022
The Pickleball Club portable net system  was designed in response to repeated requests for a lighter and more affordable net system. The freestanding metal structure features a 22ft wide net, which is 36" at the sidelines and 34" at the centre and adheres to all official regulations set by the USA Pickleball Association (USAPA) and the International Federation of Pickleball (IFP) for tournament grade nets.  The Pickleball Club net was the official net of the English Open 2019.  It's free to join Pickleball England so if you're not already a member sign up and show your support for our wonderful sport and qualify for a discount on this great net.
What's the difference compared to other nets? 
Price: at only £110 (£95 for members of Pickleball England) it is great value for a full-sized, easily portable net. 
Weight: at only 18.5lbs (8.5KGs), it is much lighter than other nets and just over half the weight of the oval Picklenet system. This is a key factor if you'll be carrying nets around particularly if you have to transport more than one net at a time.
Click System: the net has traditional round steel tubes (powder coated and finished in black gloss) that have metal push buttons so they slot together with a 'click' easily and securely providing added stability to the frame and making it easier for someone to erect and dismantle the net on their own.
Versatility: the net system can easily be adapted to fit any space by leaving out one or more of the frame poles. You can then shorten the lightweight net at one side by the use of bulldog clips or something similar. It works perfectly and looks super-cute (see the photo of the adapted net in my back garden)
The net conforms to all pickleball regulations and the central support stick is fibreglass so won't easily bend or break. The carry bag is roomy making packing the net away a doddle and it has carry handles for easy transportation.
Key Features: 
Fantastic low price

Lightweight and versatile  18.5 pounds: a lot lighter than other systems making it easier to carry around

Fibreglass central pole will not easily bend or break

Button system to clip the poles together for added stability and easy dismantling (the buttons can be easily removed if preferred)

Velcro tension strap when placed just below the top of the two end poles ensures that the net is always at the regulation 36" on the sideline of the court

Good ground clearance: the net is well off the ground allowing players easily to hit or kick the ball back underneath the net when necessary

Large net bag: big enough to allow the poles and net to be stored without too much fuss or special packing
Reviews