Pickleball Inc. Paddle Cover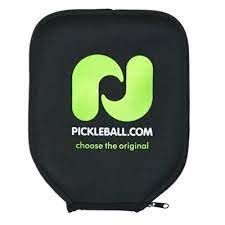 Pickleball Inc. Paddle Cover
The Pickleball Inc. Paddle Cover gives a nod to the first pickleball company created while protecting your paddle from harm. This smooth cover is made with neoprene and provides cushioned insulation from hard or pointed surfaces which could cause damage to your equipment. The generous size allows it to fit just about any paddle available with the added benefit of keeping debris away from its surface.

The Pickleball Inc. Paddle Cover has a zipper that runs along the side of the cover to the centre, securely keeping your paddle in place. There is an opening at the bottom to allow a paddle's handle to stick out while the rest shields the face. The Pickleball Inc. logo sits in the centre of the design and the standard cover's measurements are 9-1/2" wide by 11 1/2" long and X-Large cover measures 9" wide by 13" long.

The Pickleball Inc. Paddle Cover will keep your paddle in top condition while adding additional style to your gear when not in use.
Reviews