Pickleball Tutor: Pickleball training machine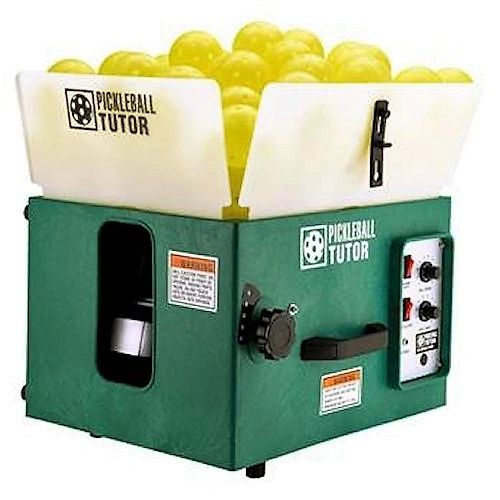 Pickleball Tutor: Pickleball training machine
For Shipping outside of the UK, please contact me prior to ordering.
This is the ultimate Christmas gift for your pickleball-playing loved one. Some lucky boy or girl would be delighted if Santa left this in their stocking!
Got a weak backhand? Have trouble with your smash? Then the Pickleball Tutor Machine is for you! Small but perfectly formed, it will help you to take your game to the next level and eliminate your weaknesses. This revolutionary machine is only 12 x 18 inches wide and 20 inches deep, making it almost half the size of other machines on the market. It also weighs only 29 pounds which makes it very easy to transport to any pickleball court. This machine can hold up to 125 pickleballs and the shots are customisable: choose from a high lob, a short dink or a quick, direct fire at speeds of up to 50 miles per hour.

The Pickleball Tutor Machine is battery powered, typically delivering 3-4 hours of playing time per charge and comes with a smart battery charger that fully charges the battery overnight. Players can program the machine to fire at intervals between 1 and 10 seconds depending on how quick they want their game to be. It is available in oscillating and non-oscillating options. The non-oscillating version will fire straight shots in whichever direction the machine is pointed which is ideal for practicing a particular shot or skill. The oscillating model will also do this but in addition will fire randomly side-to-side shots which more closely resembles a real game and is perfect for fitness training. The machine can be used with either indoor or outdoor pickleballs. 
The oscillating machine is available with a wireless remote. The Wireless 2-Function Remote is a remote control box which controls the ball feed on/off and the machine oscillation on/off. 
Also available is a smart ball collector in small size (capacity 40 balls) or large size (capacity 60 balls). Click to view this product 
Please note that the Pickleball Tutor will supply a more consistant ball tragectory if all the balls used are of the same type. If you mix the type of balls then the slight differences in weight, diameter and hardness of material will cause some balls to fly higher or lower than others. I have created bundle prices for 100 balls for you to add to your order if you wish.  

Specifications:
Weight: 29 lbs.

Measures 12" x 18" x 20" 

Speeds up to 50 mph

2 year UK return to base warranty on machine 

Made in the USA

Reviews