Pickleball Tutor: Pickleball training machine, basic model only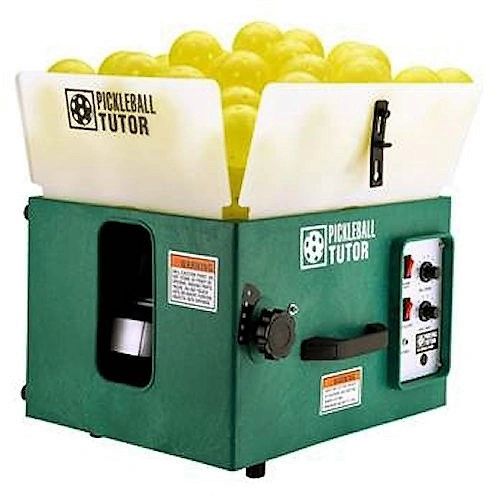 Pickleball Tutor: Pickleball training machine, basic model only
We're very sorry but at the moment the only model of Pickleball Tutor in stock is the basic model. However, the basic (non oscillating) model is absolutely perfect for this time of social distancing as the fact that it shoots to just one fixed spot makes it ideal to use in a smaller space, such as a patio or garden. If you'd prefer a more advanced model then please call or email us to discuss when other models might be available.
The Pickleball Tutor is  the most powerful portable ball machine on the market today. Utilising both indoor and outdoor pickleballs balls, this machine has few limitations.
POWER
: Adjustable speeds up to 60 MPH
BALL CAPACITY
: Holds up to 125 pickleball balls
VERSATILITY: 
Adjustable arc from dink to lob
OSCILLATION
: No Oscillation
DIMENSIONS
: The machine is 12"x19.5"x18" when closed
SMART CHARGER
: Included with the purchase of battery-powered machines
The basic non-oscillating machine feeds to one court location until you angle the machine to another court location. This is absolutely perfect for drilling and practicing one particular shot over and over again, which is considered as the best way to improve. It is also perfect for when space is limited as you won't need to use a whole pickleball court sized space for your drilling. 
Sports Tutor manufactures ball machines for many sports and their ball machines have been among the most popular in the world for decades. 
Unfortunately, stock of outdoor balls is very limited at this time so if you'd prefer those please contact us by telephone or email us prior to placing your order.
Reviews