Pickleball Tutor Plus: Pickleball training machine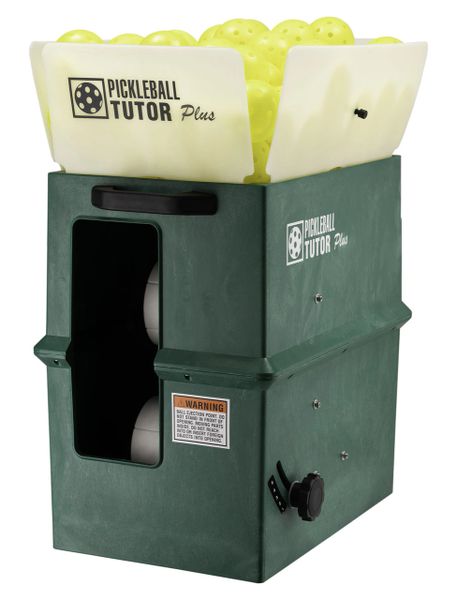 Pickleball Tutor Plus: Pickleball training machine
The inventory for this item is at zero but we can source this product for you. Please contact us by telephone or email wit your requirements.
Pickleball Tutor is the world's number one selling pickleball machine.  We offer two models with similar capabilities, but differing in the type of spin each can impart on the ball.

The Pickleball Tutor Spin model is designed for recreational and local tournament players who are most likely to see sidespin shots, because sidespin is the most natural and easiest type of spin to generate in pickleball. Click here to view the Tutor Spin model
The Pickleball Tutor Plus model is ideal for regional and national tournaments players who regularly see backspin approach shots, topspin drives, and topspin passing shots. Its main features are as follows:
Holds 110 pickleballs
Ball Speed – Up to 65 MPH
Ball Feed – From every one second (for quick-reaction volleys) to every 10 seconds
Throws both indoor and outdoor pickleballs.
Start-up time delay allows time to get to the other side of the net before balls begin shooting.
Rechargeable Battery – Built-in battery provides up to four hours of playing time per charge.
Smart Battery Charger – Fully charges the battery overnight and shuts off automatically to prevent over-charging
Random Oscillator is included
Built-in 3" towing wheels and handle for easy transport (no towing cart)

Topspin and Backspin – A single dial controls the amount of topspin or backspin.
ADDITIONAL FEATURES: (must be added at time of purchase)
2-Line Oscillation (+£210): 

Automatically shoots to two preset court positions. This feature allows you to practice alternating forehand and backhand shots, or allows two players to practice together. 

Electronic Elevation (+£110): 

Ball trajectory is controlled by a simple electronic switch on the control panel rather than the manual knob control. 

Optional Wireless Two-Button Remote (+£210): 

Controls ball feed on/off and machine oscillation on/off. 
Reviews