Pickleball Tutor Spin: Pickleball training machine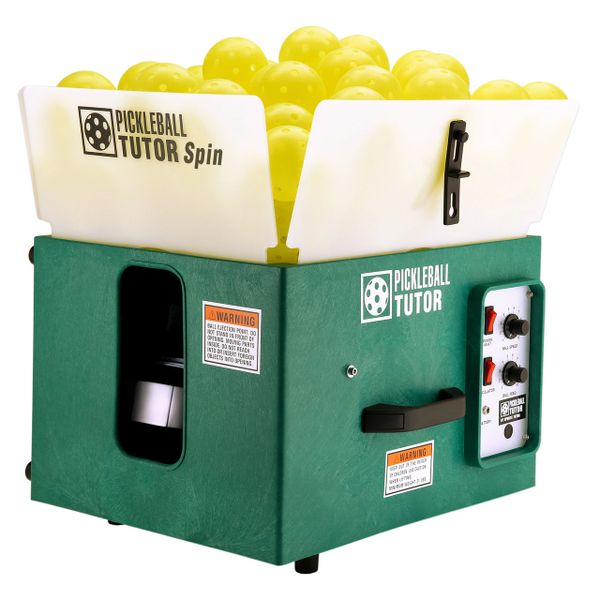 Pickleball Tutor Spin: Pickleball training machine
The inventory for this item is at zero but we can source this product for you. Please contact us by telephone or email with your requirements.

Pickleball Tutor is the world's #1 selling pickleball machine.  We offer two models with similar capabilities, but differing in the type of spin each can impart on the ball. The Pickleball Tutor Plus model is ideal for the more experienced players who regularly play against backspin approach shots, topspin drives, and topspin passing shots. 

The Pickleball Tutor Spin model is designed for recreational and local tournament players who are most likely to see sidespin shots, because sidespin is the most natural and easiest type of spin to generate in pickleball. All Spin machines include the following:
Sidespin: 

Adjustable from no spin to a left or right sideways movement of several feet.
Random Oscillation: 

When you're ready to hit on the run, just flip the oscillator switch to random and it will feed shots randomly across the court. 

 

Five-second Set-up: The ball hopper opens in seconds. Just load the balls and you're ready for action.

Versatile Speed: 

Ball speed is variable from a gentle toss that's ideal for beginners of all ages to 60 mph for hard-hitting and experienced players.
Variable Ball Feed:Ball feed rate is variable from one ball every second (for quick-reaction volleys), to one ball every 10 seconds.

Start-Up Time Delay: 

A start-up time delay allows the player time to get to the other side of the net before balls begin shooting.

Full Range of Trajectories: 

Ball trajectory is manually adjustable from groundstroke to lob. 

Portable: 

The

 Pickleball Tutor is the lightest and easiest to carry pickleball machine available. 
ADDITIONAL FEATURES: (must be ordered at time of purchase)
Electronic Elevation: Additional cost £110. Ball trajectory is controlled by a simple electronic switch on the control panel rather than the manual knob control. 
2-Line Oscillation: Additional cost £210. Automatically shoots to two preset court positions. This feature allows you to practice alternating forehand and backhand shots, or allows two players to practice together. 

Optional Wireless Two-Button Remote: Additional cost £210. 

Controls ball feed on/off and machine oscillation on/off. 
Reviews