PickleNet portable net system: Oval Poles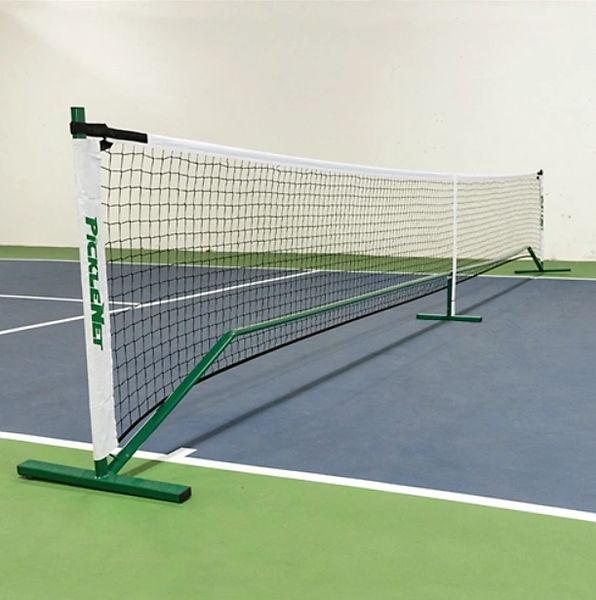 PickleNet portable net system: Oval Poles
The PickleNet portable pickleball net system is considered by most to be the "Rolls Royce" of pickleball nets. It is now even better! Their round-poled version was pretty awesome but the addition of oval tubing for added strength, a new patented central support system and flat support rod to prevent damage to the top of the net and an elasticated lower net edge to prevent sagging makes it even better. Still finished in the same beautiful British racing green colour, it is a USAPA approved portable net which means it conforms to all official Pickleball specifications. The proprietary rectangular centre strap design is the best in the industry and maintains a consistent net height. Adjustment straps on the net's edges provide excellent net tension. It is easy to assemble in a flash and comes with a nylon bag for handy storage. The bag is made from heavy 420D nylon with a durable double zipper, carry straps, and internal sections to make portable net storage easier than ever.
Here are some key features of the new patented PickleNet design that sets this net system apart from the rest:

The centre support pole is now rectangular providing function and support and will last longer.
Oval tubing for faster set up and automatic alignment of the centre frame.
The centre poles sit on a molded centre support. Compared to other nets, this feature further speeds up assembly time.
The elastic bottom net band speeds up net set-up, helps maintain consistent net tension and takes stress off of the net to increase durability.
Specifications: Weight: 14kg (30 lbs), Width: Asembled 22 feet, Height of net: 36 inches sidelines, 34 inches centre.
Portable Net Systems are designed for either indoor or outdoor use. However, please do not leave this product outside for extended periods. We suggest that you store your system indoors and not expose to wet or extreme outside elements. Although most Portable Net Systems are rust resistant, they are not rust proof. Made in China. 
Reviews